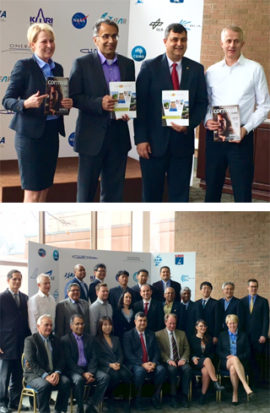 Aviation Experts Gather in Cornwall
March 22, 2016
Cornwall Ontario – Some of the world's leading experts on aviation and aeronautics are in Cornwall this week.
The International Forum for Aviation Research ATM (Air Traffic Management) Working Group is holding a workshop this week at the NAV CENTRE.  National aeronautics R&D organizations from 13 nations have formed the ATM Working Group on to develop a global operational concepts , and enhance collaboration.  The workshop will be attended by the ATM senior leaders and researchers from the 13 national member R&D and their ANSP (Air Navigation Service Provider) organizations.
22 scientists have made the trip to Cornwall for the workshop with several more conferencing in via the Internet. This is the first time the ATM Working Group has met face to face.
"These scientists advise their respective governments and help to set the rules for air traffic control in the world," said Kim Coe-Turner, General Manager of the NAV CENTRE. "NAV CANADA and the National Research Council are pleased to host the workshop and help showcase Canadian expertise in the sector."
NAV CANADA is the country's private sector civil air navigation services provider while the National Research Council is the Government of Canada's research and technology organization. The NAV CENTRE is a major conference facility owned and operated by Nav Canada, and is fully equipped to train air traffic controllers.
"The NAV CENTRE has done a great job organizing and managing this IFAR working group," said Akbar Sultan, deputy program manager of NASA's Airspace Operations and Safety Program. "This wonderful venue has allowed us to meet with our contemporaries to coordinate an air traffic management approach that could be beneficial to the overall global aviation community across North and South America, Europe, Asia, and Asia Pacific."
Late last year, NAV CANADA and Carleton University signed an agreement to work toward establishing an Aerospace Centre of Excellence in Cornwall that would offer a variety of pioneering programs, including professional certification courses in the areas of pilot training, air traffic management and airport management. Delegates will have an opportunity to tour Carleton University and the NRC later this week.
Related Story
Carleton and NAV CANADA to Bring Programs to Cornwall
About the International Forum for Aviation Research
The International Forum for Aviation Research (IFAR), is the world´s only aviation research establishment network.  IFAR aims to connect research organisations worldwide to enable the information exchange with the overall goal of identifying mutually beneficial collaboration.  It also strives to develop the next generation of young researchers in the field of aviation and aeronautics.   Currently there are 26 member nations, and the National Research Council is the Canadian representative to IFAR.
About NAV CENTRE
The NAV CENTRE is training and conference venue owned and operated by NAV CANADA. It offers access to 550 guest rooms, 70 state-of-the-art classrooms and meeting rooms, as well as an auditorium. Other amenities include a gymnasium and fitness facilities as well as multiple dining options. The NAV CENTRE is also an accredited member of the International Association of Conference Centres (IACC), provided for adhering to globally-recognized standards in hospitality service.
Categorised in: Business