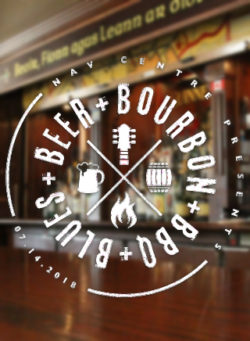 Beer, Bourbon, BBQ and Blues Festival On Tap this Summer
March 21, 2018
Cornwall Ontario – There's a new party coming to town.
The first annual Beer, Bourbon, BBQ and Blues Festival will be held on Saturday, July 14th on the grounds of the NAV CENTRE along the St. Lawrence River.
The new summer celebration promises a fun-filled day with a great mix of craft beer, blues music, bourbon and mouth watering BBQ treats.
"We want to create a world-class event," said Ian Bentley, Director, Conference Services & Food and Beverage at NAV CENTRE. "We want to create something that Cornwall residents will be proud of."
The event will run from 12 pm to 7 pm on the outer grounds of the facility and there will be a full slate of food, drink and music offerings for festivalgoers.
There are 18 breweries on tap to attend – with more to come – and 4 bourbon distilleries to go along with some amazing BBQ creations from NAV CENTRE Chef Luc McCabe and his team.
"I want to make taste buds dance and have people question what they thought BBQ was," said Chef McCabe.
To complement the food and drink, there will be a full line-up of blues entertainment throughout the day. The entertainment roster is still in the works with additional announcements expected in the future.
"It's going to be a spectacular event," added Mr. Bentley.
Admission tickets are $15 each and will go on sale May 1st on Eventbrite.ca and at the cafe inside the NAV CENTRE.
The new festival builds on other events held at the NAV Centre such as this weekend's popular Wonderful World of Whisky Show. The event has been sold out for a month now and Mr. Bentley estimates over half of the attendees will be coming from Ottawa, Montreal and other locales beyond Cornwall.
"My goal is to get those patrons to come back down for the new festival and help us spread the word," he said.
About NAV CENTRE
Known as eastern Ontario's largest conference and meeting centre, the NAV CENTRE features 50,000 square feet of meeting room space along with 560 guest rooms, an indoor pool, gym, fitness centre and spa. The facility is located just steps from the celebrated Waterfront Trail which runs along the St. Lawrence River.
The NAV Centre welcomes thousands of visitors each year for meetings, conferences and special events like the Wonderful World of Whisky Show, the Woodsmoke Bluegrass Jamboree and numerous other events.
Cornwall Event Information
Information on upcoming events and other tourism news can be found on the Cornwall Tourism website, which includes a full event calendar with dozens of events:
Categorised in: Business