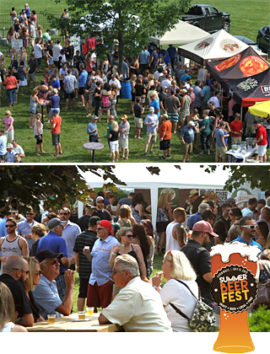 Beerfest Attracts Over 1000 People To NAV CENTRE
July 14, 2015
Cornwall Ontario – The inaugural Cornwall Summer Beer Fest was a smashing success – attracting over 1200 people to the scenic grounds of the NAV CENTRE.
The event featured over 15 Eastern Ontario craft brewers, local restaurants and some very talented musicians.
"I am over the moon with the success of this event!" said Ian Bentley, Food and Beverage Manager for the NAV CENTRE. "The event is something I've dreamt of for numerous years working in the hotel industry. The brewers were positioned perfectly and the "food court" allowed folks to sit down and socialize. With great music and comfortable seating, everthing was just fantastic."
The positive comments were ehoed by the large crowd that swelled with numbers over the afternoon, to the delight of the 15 beer vendors which included Beau's, Big Rig, Nita, Casselman, Muskoka, and Broadhead, to name just a few.
"How awesome is this? Talking with people about beer on a sunny day overlooking the St. Lawrence!," said one brewer. "We'll definitely be back next year!"
Beer wasn't the only thing on tap, as several of Cornwall's best restauranteurs came out to offer some tasty treats. All food vendors (Truffles, Table 21, Schnitzels, Bar Q, Love Love Food and others) were equally busy, with most running out of food just as the event wrapped up.
"We served 300lbs of wings, countless fries, 450 orders of beer candied bacon and we were just one food tent!" noted Chef Luc McCabe of the NAV CENTRE. "We topped the day off with beer-battered candied bacon cupakes with burnt marshmallow tops."
Organizers are already discussing plans about how to make the event even better, but keep the same popular theme.
"We were blown away by the response from the community,' says organizer Sebastian Manigat. "We feel inspired to continue to deliver exciting new initiatives that celebrate our local culinary scene, craft beer industry and nightlife."
"We want more people to experience this event, especially visitors from out of town, but we want to ensure it remains a laid back afternoon with your friends sampling relatively unknown craft beers," added Mr. Bentley. "A number I have in my head is 2000 people in the same space."
More information can be found online: