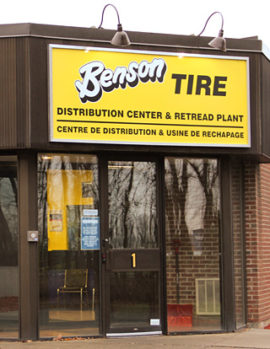 Benson Group Completes $6 Million Expansion
December 16, 2015
Cornwall Ontario – The Benson Group has completed a $6 million expansion to their tire distribution centre and retread plant in their home base of Cornwall, Ontario.
The expansion to the building at 805 Education Road is the latest component to position the Benson Group as the largest distributor of Goodyear Tire in Canada.  It includes building repairs, enhancements, racking, monorail as well as retread and warehouse equipment.
It's the first retread tire plant in Eastern Ontario.
In addition to the financial investment, the expansion has also means an additional 45 new staff to the Benson Team.
"This investment is a sign of our commitment to calling Cornwall home," said Benson Group President Marty Benson.  "It's allowed us add staff as well as solidify our position as a leader in tire distribution."
The Benson Group now has more than 485,000 square feet of warehouse space in Cornwall's Business Park when factoring in the latest expansion with the auto parts warehouse from a couple of years ago.
The Benson Group also employs more than 300 people in Cornwall and area and over 1,500 people throughout its network in Ontario and Quebec.  Those figures include auto parts and repair experts as well as office and warehouse staff.
About The Benson Group
The Benson Group has grown to operate over 100 locations in Ontario and Quebec, known by its distinctive yellow trucks and yellow buildings. Through partnerships with major parts suppliers, the company is able to offer a wide variety of services to Canadians, including tires, auto parts, repairs and maintenance. The Benson Group is 100% Canadian owned and operated and committed to our communities and employees.
For more information visit www.bensonorg.com
About the Cornwall Business Park
The Cornwall Business Park is approximately 1500 acres in size and is home to Cornwall's largest private sector employers. Land is available for $30,000 an acre. Available services in the Business Park include municipal water, sanitary sewers, electrical power, natural gas, and access to high speed telecommunication services. Access to Highway 401 is available via Interchange 796 (Boundary Road) and Interchange 792 (McConnell Avenue).