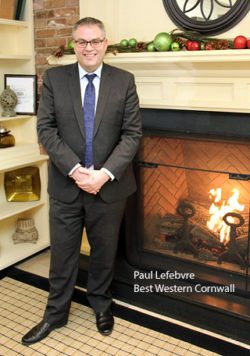 Best Western Recognized for Excellence
December 6, 2016
Cornwall Ontario – For the second time in three years, The Best Western Parkway Inn & Conference Centre in Cornwall has won two prestigious awards.
The popular Cornwall hotel was recognized with the brand's highest honour, the M.K. Guertin Award, as well as the Champion Customer Care Award.
"It is not always easy to stand out in an organization as large as Best Western, with so many exceptional properties," said Paul Lefebvre, General Manager of the Parkway Inn. "The awards are a reflection of the experience our customers receive, and we are very appreciative of the commitment to excellence from our entire staff."
The prestigious M.K. Guertin Award is presented to those member properties that have best represented the vision of Best Western's founder. The award showcases top properties that exemplify the best performance across areas such as quality assurance, customer service, guest satisfaction and commitment to the brand. The Best Western Parkway Inn won the award for the first time in 2014, and only 4 Canadian winners were selected in 2016.
"The M. K. Guertin Award is the top honour a Best Western branded hotel can receive," said David Kong, President and Chief Executive Officer of Best Western Hotel and Resorts. "It is a tremendous achievement to be one of only 27 properties in North America to receive this award this year."
Cornwall was also awarded the Champion Customer Care Award, which honors properties that best exemplify exceptional levels of service and care to guests. The hotels must also meet quality and service standards and other membership requirements to qualify for the award.
Located at 1515 Vincent Massey Drive, the Best Western Parkway Inn & Conference Centre features 97 rooms and a full service restaurant, fireside lounge, sports bar and over 9000 square feet of meeting and conference space. Earlier this year, the hotel was rebranded to reflect the new BW logo that has been rolled out worldwide by Best Western Hotels and Resorts.
Paul Lefebvre is a founding member of Team Cornwall and has been involved with a number of community and business organizations over his career.
For more information about Cornwall's Best Western, please call the hotel directly at 613-932-0451 or visit them on Facebook:
About Best Western Hotel and Resorts
Best Western Hotel and Resorts is headquartered in Phoenix, Arizona and is a privately held hotel brand made up of more than 4,000 hotels in more than 100 countries and territories worldwide. Now celebrating 68 years of hospitality, Best Western welcomes hundreds of thousands of guests nightly. Best Western provides its hoteliers with global operational, sales, marketing and promotional support, and online and mobile booking capabilities. For more information or to make a reservation, please visit bestwestern.com.
Categorised in: Business