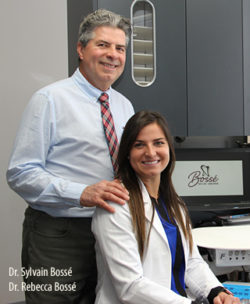 Bossé Dental Clinic Relocates to Cotton Mill District
December 15, 2017
Cornwall Ontario – The Bossé Dental Clinic has a new address – the heritage Cotton Mill District along Cornwall's waterfront.
"This is a great up-and-coming area of Cornwall that is the new home to many complementary businesses, " says Dr. Rebecca Bossé, who along with father Sylvain, operates the clinic.  "It is a great location with lots of parking for our patients."
The new clinic seamlessly melds a modern dental office with a turn-of-the century heritage building. The move to larger space also marks a significant investment in new equipment. The number of dental chairs has increased from 4 to 6, with room for a 7th dental treatment room.
"We have upgraded all of our equipment, with brand new massaging chairs, cabinets and x-ray machines," says Rebecca.
New touches include smart TVs on the ceiling above the dental chairs with wireless headsets to make the dental experience that much more enjoyable — patients can watch a variety of programming, including Netflix, cartoons, and music videos.
A new state of the art sterilization centre has also been added to ensure the proper sterilization of instruments.
The dental office was opened on Montreal Road when Dr. Sylvain Bossé moved to Cornwall in 1982. Rebecca joined the practice in 2013. Together the father-daughter team provide friendly professional service in both official languages.
"We like to get to know our patients and their families," says Rebecca. "It allows us to suit our treatments to meet their personal needs."
The Bossé Dental Clinic has 11 staff members including 2 dentists, 2 receptionists, 3 hygienists and 4 dental assistants.
The clinic is located at 111-705 Cotton Mill Street. More information can be found online:
Categorised in: Business