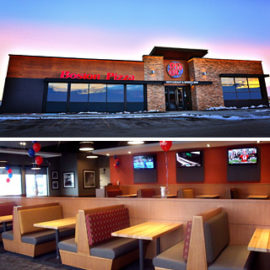 Boston Pizza Holding Job Fair in Cornwall
March 5, 2014
Cornwall Ontario – The finishing touches are being put on the new Boston Pizza restaurant in Cornwall, and with construction winding down, the restaurant's owner is looking to assemble his staff.
Boston Pizza will be holding a job fair over the next two weeks:
Saturday March 15th & Sunday March 16th – 9am til 5pm

Sunday March 23rd & Monday March 24th – 9am til 3pm
The job fair will be held at the Ramada Inn and Conference Centre on all four days.
"We are excited about opening in Cornwall, and excited to welcome new people to the Boston Pizza family," said franchise owner Paul Toor.
Mr. Toor will be looking to hire between 80-90 people for a wide range of positions, including:
Front of House Management
Servers
Hosts
Kitchen Management
Cooks
Prep cooks
Scullery
Delivery drivers
Job seekers are advised to come early, and to bring their updated resume, SIN number and any applicable qualifications, for example Smart Serve.
The new Boston Pizza restaurant is expected to open on April 22 on Brookdale Avenue, just in time for the NHL playoffs. The 5,900 sq.ft restaurant is located at Cornwall's busiest intersection in Cornwall, a few minutes north of the Benson Centre, a popular location for sporting tournaments throughout the year.
About Boston Pizza
Boston Pizza is a Canadian success story, operating over 325 restaurants across Canada. All but three restaurants are owned by independent franchisees. Over 16,000 employees serve over 38 million people each year.