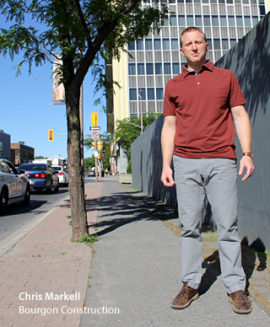 Bourgon Construction to Acquire Downtown Development Sites
June 14, 2016
Cornwall Ontario – Bourgon Construction is in final negotiations to acquire four prime downtown development properties, including The Dominion condominium project at the corner of Pitt and Second Streets.
"We strongly believe in the direction Cornwall's downtown has taken in recent years, and the importance of a strong downtown to a vibrant community" said Bourgon Construction owner Chris Markell.
Bourgon has already begun work on a feasibility study to assess the best possible use for the landmark 'First on Second' site, with an early focus on building first-class office and community space. While the condominium project was generally well-received by the community, too few units have been pre-sold to date to justify a construction start.
"The current owners had an exceptional vision, however the market simply isn't there for luxury condominiums at that site at this time," said Mr. Markell. "We are acknowledging that and moving forward."
Bourgon Construction had been previously involved in the Dominion project as the builder, not as the property owner. The planned acquisition gives the company the control to direct the final development of the site.
"The First on Second site offers a tremendous location in terms of visibility and access," notes Mr. Markell. "It has plenty of onsite parking, with ample additional parking nearby. Our goal is to reinforce recent investments in downtown businesses by bringing people to the heart of the City."
To be included in the Bourgon downtown portfolio are three other downtown properties which will be prepared for potential redevelopment or sale over the coming weeks.
"We have confidence in downtown Cornwall as a business location, and we want to create developed space that meets the demand of the market."
About Bourgon Construction
Bourgon Construction is a Cornwall-based design-build and construction management company specializing in high-quality institutional, commercial and custom residential works. Bourgon is currently building the Upper Canada District School Board's new Bridgewood and Kemptville elementary schools, the Cornwall Community Hospital's new Addictions and Mental Health Centre, and recently began work with other community partners on the Rotary Outdoor Gym in Lamoureux Park.
Bourgon Construction is located in the Cornwall Business Park.
Categorised in: Business