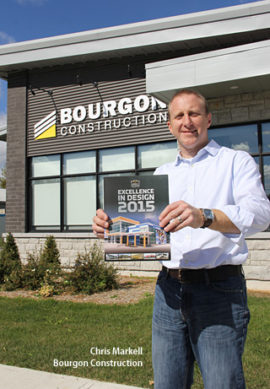 Bourgon Construction Wins Excellence in Design Award
October 8, 2015
Cornwall Ontario – Bourgon Construction has been recognized with an Excellence in Design Award by American Buildings Company.
The new headquarters for the Cornwall-based contractor took 3rd place in the office category and has been profiled in a 38 page publication distributed around the world. The Bourgon building was one of only two Canadian buildings to win an award this year.
"We're very pleased to have been recognized by American Buildings, especially as this building was very much a home-grown project," says Chris Markell, owner of Bourgon Construction.
The main structure and site layout were designed by Mr. Markell and his wife and partner Sophie Jean, with architectural assistance from Colbourne & Kembel Architects, interior design help from Jennifer Renwick, and of course a lot of helpful input from staff. The building has a number of innovative features, including the use of insulated metal panel (IMP) roofing and pre-finished interior walls.
Staff moved into the building in October 2014 after outgrowing their previous location. The new facility is located at 3306 Second Street East in the Cornwall Business Park and has approximately 2,500 sq.ft. of office space and 4,500 sq.ft. of warehouse space.
"The new Bourgon Construction office building is a fantastic addition to the Cornwall Business Park," said Mayor Leslie O'Shaugnessy. "Proper design is an investment not only in the value of the property, but it is also an investment in the community and improves our cityscape."
The Bourgon office building is not the first Cornwall property to win an Excellence in Design Award.
The Benson Centre, Cornwall's multi-sport facility, was named Green Building of the Year by American Buildings Company in 2012 and also took Runner-Up honours in the overall 'Building of the Year' category that same year.
About the Excellence in Design Awards
American Buildings Company's annual Excellence in Design competition celebrates the ingenuity and creativity of builders and roofers. From warehouses to religious buildings, from recreational facilities to schools, and everything in between, the winning buildings are testaments to these companies who enhance their communities with structures that are as beautiful as they are functional.
About Bourgon Construction
Bourgon Construction specializes in commercial and industrial work.  The company has completed a number of high-profile buildings throughout Eastern Ontario, including the new Discovery Centre at Upper Canada Village. The company also has a number of significant projects on the go, including a new elementary school in Cornwall, renovations to the Agapè Centre and a new addition to the Cornwall Community Hospital.  More info can be found online: