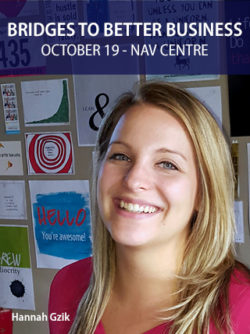 Bridges Event Aims to Help Local Business
October 17, 2016
Cornwall Ontario – Looking to fine tune your business?
The Bridges to Better Business event takes place October 19 at the NAV CENTRE. It is being organized by the Cornwall Business Enterprise Centre, the Cornwall Chamber of Commerce and the Cornwall and the Counties Community Futures Development Corporation.
The half-day event features a series of small business focused workshops followed by a luncheon and special guest speaker, Hannah Gzik.
"Hannah Gzik brings a fresh perspective to improving businesses and people.," says Lezlie Strasser, Executive Manager of the Chamber of Commerce. "She engages her audience and leaves them feeling confident, empowered and motivated to make positive changes in their businesses and lives."
Bridges to Better Business 2016 will follow a similar format to last year, which attracted 100 attendees. Prior to the keynote speakers, a series of workshops will be held in the morning.
"The format allows attendees to select the topic of most interest to them," says Candy Pollard, Business Consultant with the Cornwall Business Enterprise Centre. "We have an excellent slate of very knowledgeable speakers."
The morning workshops are as follows:
Financial Fitness –  Alain Gravelle, Welch and Co.
Free Apps for Small Business – Kelly Bergeron, Code Heroes
Mini Funders Forum – Various Funders from across Eastern Ontario
The Client Experience – Eric Charlebois
Business people can register online with the Chamber of Commerce.
"This jam-packed, half-day event offers excellent value," says Lesley Lang, CFDC Executive Director. "Better Bridges is also an excellent opportunity for business owners to network, share and learn from each other."
October is Small Business Month. You can learn more about the three organizations organizing the event below:
About the Chamber of Commerce
The Cornwall and Area Chamber of Commerce is the unified voice of the region's business community speaking towards growth, leadership and innovation. With direction from the elected board of directors, the Chamber looks to continuously progress the community through political advocacy, knowledge-based development and innovative opportunities.
About the Cornwall Business Enterprise Centre
The Cornwall Business Enterprise Centre is operated by Cornwall Economic Development in partnership with the Ministry of Research & Innovation. It provides information and support to entrepreneurs during start‐up and growth stages of business operation, in addition to holding a number of seminars and workshops on timely topics.
About Cornwall and the Counties CFDC
Cornwall & The Counties Community Futures Development Corporation (CFDC) is a non-profit development agency, which has a primary focus to help local businesses in need or who are struggling in one form or another.
Categorised in: Business