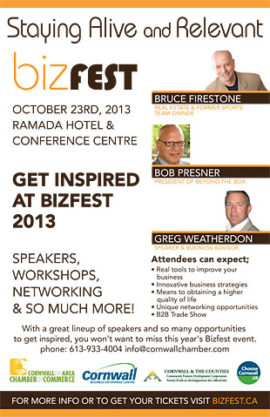 Bruce Firestone to Speak at Bizfest on October 23
October 7, 2013
Cornwall Ontario – Bizfest is back for a third year and indications are that it will be the best yet.
The one-day business networking event takes place on October 23rd at the Ramada Hotel and Conference Centre.
Bizfest 2013 starts off with a keynote presentation on innovation, builds through out the day with a series of workshops, and culminates with the ever popular Chamber networking reception and speaker.
"This year, to accommodate our Cornwall business professionals, we've packed BizFest activities into one full day," says Megan Phillips, Event Coordinator for the Cornwall and Area Chamber of Commerce.
Keynote Speaker
The event kicks off with a terrific breakfast speaker, Bruce Firestone, a highly respected Ottawa entrepreneur.
While in his 20s, Mr. Firestone invested $10,000 in a faltering business and built a commercial real estate empire. He was the driving force for a successful bid to bring the National Hockey League back to Ottawa after a nearly 60-year hiatus. He put it all on the line, risking tens of millions of dollars, to bring the Senators back to Ottawa.
Workshops
Bizfest organizers have also attracted some premier speakers for a series of workshops throughout the day.
"We have tried to include something for every one while keeping true to our theme of Staying Alive & Relevant," said Ms. Phillips. "The breakout sessions will provide topical tools and tips to allow you to take your business to new heights."
One speaker that is generating some buzz is Bob Presner. Presner is President of Beyond the Box, and his workshop participants will acquire real tools to implement in the office to ensure all employees are positively contributing to the overall success of the company. Attend Mr. Presner's presentation to get a keen insight into how to build positive employee relationships.
In addition to Mr. Presner, a variety of breakout sessions will run concurrently throughout the day.
Closing Speaker
Another highlight is sure to be Ottawa-based entrepreneur Greg Weatherdon, whose success allowed him to retire at age 50. Mr. Weatherdon will share his secrets to work-life balance as the final BizFest presentation, following a reception and evening networking session.
Trade Show
Along with the keynote speakers and workshops will be an all day Business to Business Trade Show in the Simon Fraser Ball Room with close to  20 exhibitors showcasing the latest in business products and services.
About Bizfest
Since it was first launched three years ago by the Cornwall and Area Chamber of Commerce, Bizfest has emerged as a key fall event for Cornwall and area business professionals. Bizfest was born out of a desire to connect the community together and create a catalyst-event pushing the business community towards innovation, growth and development.
For complete information on the event, registration and program details, visit the Bizfest web site at www.bizfest.ca.