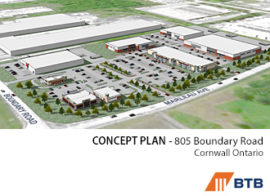 BTB Releases Concept Plan for Boundary and Marleau
February 8, 2016
Cornwall Ontario – One of Cornwall's busiest intersections may soon be getting a makeover.
BTB REIT, the owner of the property that comprises the southwest corner of Boundary Road and Marleau Avenue, has released a concept plan for a major redevelopment of the 16 acre site.
"We have completed a concept plan that includes a mix of retail and restaurant use, but also accommodates the growing demand for more space for logistics activities in Cornwall," says Michel Leonard, President of BTB Real Estate Investment Trust.
The concept plan currently shows a stand-alone restaurant in a commercial plaza with supporting merchants. The zoning for the site can accommodate a variety of uses.
"The Cornwall Business Park is home every day to over 3000 working people, with limited choices for food and shopping," says Mr. Leonard. "Given the majority of people live in the Eastern portion of Cornwall, and given that this is a major entry to the City with Highway 401 access, we believe a retail node would do very well."
The 16 acre parcel also extends to the west along Marleau Avenue. BTB planners have envisioned a series of warehousing buildings on the western portion of the property.
"We believe Cornwall will continue to grow as a hub for supply chain activities, and as growth occurs, so too will demand for space," says Mr. Leonard. "Our concept is a flexible plan that will offer modern versatile space with large ceiling heights and abundant dock level doors."
The plans also include a partial demolition of the existing building on the property, and a possible relocation or removal of an existing rail spur.
"With the exception of the south end which is occupied by Canada Post, the remainder of the existing structure has reached the end of its lifespan," said Mr. Leonard. "We are currently speaking with a variety of possible tenants and look forward to the opportunity of improving this importance entrance to the city."
About BTB Reit
BTB is a real estate investment trust that owns commercial, office and industrial properties in Eastern Canada, totalling more than 5.2 million sq.ft. BTB currently owns 5 properties in Cornwall that total over 400,000 sq.ft.
About the Cornwall Business Park
The Cornwall Business Park is approximately 1500 acres in size and is home to Cornwall's largest private sector employers. Land is available for $30,000 an acre. Available services in the Business Park include municipal water, sanitary sewers, electrical power, natural gas, and access to high speed telecommunication services. Access to Highway 401 is available via Interchange 796 (Boundary Road) and Interchange 792 (McConnell Avenue).
Categorised in: Business