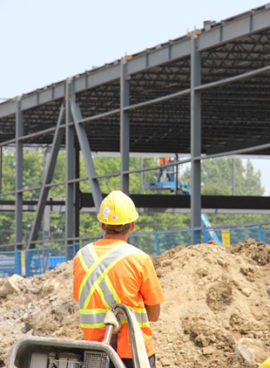 Building Activity Continues At Healthy Pace in Cornwall
November 1, 2013
Cornwall Ontario – A healthy dose of construction activity across all sectors has resulted in nearly 500 building permits being issued by the City of Cornwall through the first nine months of 2013.
According to the latest Construction Activity Report from the City's Building and Bylaw Services Division, a total of 492 building permits with a combined construction value of $25,675,543 were issued up to the end of September.
By comparison, the City issued 475 building permits with a combined construction value of $65,271,636 during the same period in 2012. The 2012 construction value was pushed higher by a $40-million permit related to the upgrades to the Wastewater Treatment Plant.
The year-to-year comparison is worth noting, since the number of building permits processed in 2012 was the highest recorded since 1989.
"Permit activity has continued  it's upward trend this year, with projects being predominately in the small and medium sized project sector," said Chief Building Official Chris Rogers. "We have also seen an increase in commercial sector activity, particularly in retail and restaurants."
Recent commercial permits that have been issued include the soon-to-open Scores Restaurant on Brookdale Avenue. That follows the redevelopment of Eastcourt Mall which includes new stores for Urban Planet, Dollarama, Ardene and No Frills. Permits have also been issued for a new LCBO and First Choice Haircutters across Second Street  at Glengarry Square, as well as a permit for a new MacEwen gas station and convenience store on McConnell Avenue. Earlier this month FreshCo opened at the corner of Ninth Street and McConnell Avenue in a new plaza that will also include Dollarama and other stores.
The September building permit figures included 5 permits for family units, bringing the total to 41 through the first three quarters of the year. These numbers do not include the recently announced Dominion Placeor Knox City Centre projects which are expected to create nearly 50 new dwelling units in the Downtown district.
The building permit statistics for 2013 do not include ongoing projects such as the redevelopment of the Cornwall Community Hospital or the construction of the new low-level bridge between Cornwall and Cornwall Island.
To view the City of Cornwall's  Construction Activity Reports, click here.