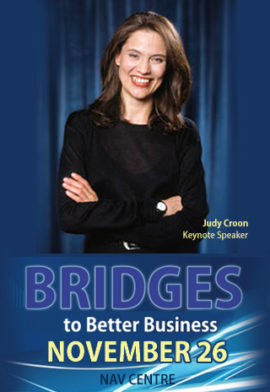 Business Event To Mix Workshops With Comedy
November 17, 2015
Cornwall Ontario – Ask any business owner what is the one commodity in the shortest supply, and the answer will likely be 'time'.
With that in mind, three local organizations have taken several important workshops and fit them into a single morning.
"We know that business owners do not have all day to sit around – even if what they are learning is crucial to the success of their business," says Candy Pollard, Business Consultant with the Cornwall Business Enterprise Centre. "That is why we have come up with 4 streamlined sessions, so that people can be back to work as quickly as possible."
The Bridges to Better Business event takes place November 26 at the NAV CENTRE. It is being organized by the Cornwall Business Enterprise Centre, the Cornwall Chamber of Commerce and the S.D. & G Community Futures Development Corporation. It is also supported by several other local organizations.
The half-day event features a series of small business focused workshops followed by a luncheon and special guest speaker, Judy Croon.
"Judy Croon is a highly popular business speaker and comedian, having appeared on the major television networks," says Chamber Executive Manager, Lezlie Strasser. "She mixes humour with an important message to the delegates who will learn while enjoying a good laugh."
The morning workshops are as follows:
Business Financing –  Businesses need funds to grow. This workshop will explore what is available in terms of loans, financing and government grants.
The Web & Social Media – It has been 20 years since the Internet became commercially popular. What are the top 10 tactics that business owners should be practising today?
Dealing with City Hall – Learn how to reduce and eliminate red tape and at the same time find out how the City's community improvement programs can help soften the cost of renovations.
Workforce Development – Recruiting and training staff can be costly. Learn about the many programs that are in place to help.
"We're confident this year's roster of workshops and Judy Croon will be popular across the Cornwall area," says Lesley Lang, CFDC Executive Director. "This is an excellent opportunity for business owners to network, share and learn."
The Chamber, CBEC and the CFDC are pleased to have the following agencies join them for the event: Cornwall Economic Development, Chamber Young Professionals Group, Business Development Bank, Ministry of Economic Development, Employment and Infrastructure, Eastern Ontario Training Board and St. Lawrence College.
Event Details
Bridges to Better Business takes place at the NAV CENTRE on Thursday, November 26th from 8:30 a.m. until 1:30 p.m.
People can register by visiting the Bridges web site: