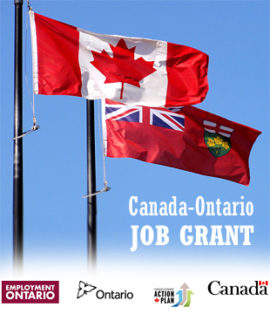 Canada-Ontario Job Grant Launched to Help Companies Improve Worker Skills
September 30, 2014
Cornwall Ontario – The governments of Canada and Ontario have launched the Canada-Ontario Job Grant, a new employer-driven skills training program.
The Job Grant will provide direct financial support for employers (up to $10,000 per person) who wish to purchase training for their workforce. In this grant program, employers choose the individuals they would like to have trained, and the training that meets their workforce development needs.
"Creating jobs, growing our economy and supporting the skills needs of our most vulnerable workers are critical," says Brad Duguid, Ontario Minister of Training, Colleges and Universities. "Ontario is happy to have found practical solutions that meet the needs of Ontarians."
In order to participate in the program, employers will be required to contribute part of the total costs of training. Small businesses will benefit from flexible arrangements, such as the potential to count wages as part of their employer contribution.
Eligible training under the Job Grant can be provided in a classroom, on-site at a workplace, or online, as long as it is provided by an eligible third-party trainer, such as a community college, career college, trade union centre, and/or private trainer. Approved training can be a maximum of 52 weeks in length
The training is intended for employed individuals acquiring new skills for their current job, or to prepare for another job with the same employer, and for unemployed individuals seeking a new job. The employer must have a job available at the end of the training for the individual being trained.
Employers must apply online for funding. Once  the application is completed, the employer will be provided with a drop down screen and will choose the service provider for their region.  Job Zone is the service provider for Cornwall, Stormont and Dundas. The Glengarry Inter-Agency is responsible for Glengarry.
As part of the Job Grant, the ministry is also calling for 'expressions of interest' for two new, employer-driven skills training pilots:
The Customized Training pilot will assist in the development and delivery of firm-specific training solutions that meet employers' workforce needs.
UpSkill will support essential and technical skills training tailored to specific sectors for potentially vulnerable workers in low and medium-skilled occupations.
To apply for the Canada-Ontario Job Grant and learn more about the training pilots, employers should visit the Ontario Ministry of Training, Colleges and Universities website:
About Job Zone d'emploi
Job Zone d'emploi has been providing assistance and helpful resources to employers in the City of Cornwall and counties of Stormont and Dundas for over 29 years. Job Zone d'emploi offers a variety of bilingual employment related programs and services, information can be found on their website at: