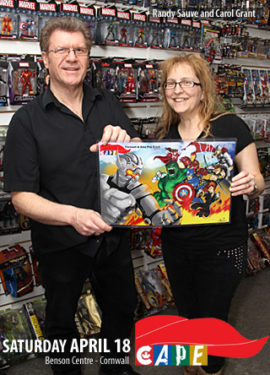 CAPE Expo Expected to Draw Thousands of Fans
April 13, 2015
Cornwall Ontario – Thousands of science fiction and fantasy fans will gather on Saturday for the first ever CAPE show at the Benson Centre.
CAPE is modelled after the very popular "comic-con" events that are held around the world to celebrate the exploding entertainment genre of super hero story-telling.  CAPE will feature special guests, vendors selling collectibles, and the opportunity to interact with other fans – many of which will be in full costume.
"A big part of the event will be the opportunity to see people in full costume –and that can include our special guests as well as regular folks," says organizer Randy Sauve. "We plan to turn the Benson Centre into a 'hall of heroes' for the day, and people are encouraged to bring a camera."
Randy Sauve and his partner Carol Grant have been able to secure some top notch guests for the event, including various actors, artists and role-players:
Capital City Garrison 501st Legion (film-authentic Star Wars characters)
Doctor Who Society of Canada (with Tardis, Daleks and more!)
League of Superheroes (cosplayers in superhero costumes)
AMC's Comic Book Men Ming Chen and Mike Zapcic
Degrassi's Pat Mastroianni (Joey Jeremiah)
Voice Actor John Stocker
The Walking Dead's Amber Dawn Fox (Officer Bello from Season 5)
Heroes of the North (web series)
Expect to see other superheroes such as Batman, Wolverine, and the Ghostbusters.
The above guests will be joined by over 160 exhibitors, many of which will be selling clothing, comic books, collectibles and more.
"Excitement has been building over the past several months, and we have had to increase the size of the show space three times," notes Mr. Sauve, who also runs Fantasy Realm, a landmark comics store on Pitt Street in Downtown Cornwall.
Ticket sales have already breached the 500 mark, and are expected to reach as high as 2000 before the end of the show, which will run from 10am to 6pm.
Special Cornwall Doctor Who Comic
An exclusive variant edition of the Titan Comics DOCTOR WHO: THE NINTH DOCTOR will available for purchase at the show. Only 500 copies of the limited-edition comic, which features a custom Cornwall cover, are available.
Free Bus Rides
People looking to attend CAPE can ride Cornwall Transit for free if they present their CAPE admission ticket to the bus driver or indicate that they are going to the Benson Centre for the event. Residents can take advantage of the free ride offer when arriving and leaving CAPE.
Wristbands After Party
Anyone with a CAPE wristband will be admitted absolutely FREE to Cornwall's iconic Port Theatre to watch a special screening of Star Trek II: The Wrath of Khan (in honour of Leonard Nimoy). This event will also be open to the general public for $5 admission to those who do not attend CAPE. There will be door prizes and a cosplay contest so wear your costume and possibly win a prize!
Ticket Info
General Admission $15.00 in advance available at FANTASY REALM, 227 Pitt Street – Cornwall, ON. Tuesday-Friday 10am-5pm. ($18.00 at the Benson Centre on the day of the event)
Children 12 and under are FREE (when accompanied by a paying adult, max. 2 children per adult)
About CAPE
CAPE, which stands for Cornwall and Area Pop Event, is being organized by Randy Sauve and Carol Grant, two well known business people in Cornwall. You can learn more online: