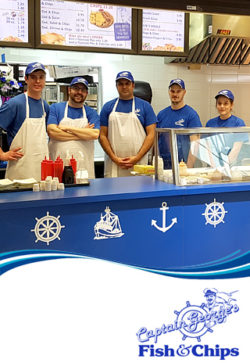 Captain George's Joins Cornwall Square Food Court
April 11, 2017
Cornwall Ontario – Captain George's has opened its second location, joining other food merchants at the food court in Cornwall Square.
"Cornwall Square has secured itself one GREAT catch!," says Karen Burns, Retail Manager with Cornwall Square. "We invite local residents to come down and enjoy some of your favorite battered fish and fresh cut fries plus, much much more."
Mr. Surinder Gill opened the first Cornwall location of Captain George's Fish & Chips 2 years ago on Second Street in Riverdale. He identified Cornwall as a new market when he noticed that customers were driving from Cornwall to eat at his Brockville location.
Captain George's Fish & Chips now has over 30 locations across Ontario.
The company was founded by George Lazakis who opened his first restaurant in 1975 in Toronto. He moved to Whitby in 1989 and opened up a restaurant under the name Blue Sea. The first Captain George's was opened in Oshawa in the 1990s, and the number of restaurants has grown steadily since.
Captain George's specializes in authentic english style fish & chips, including halibut, cod, haddock and whitefish.
The restaurant also offers a wide variety of  freshly prepared items such as burgers, wraps, soups and salads.
About Cornwall Square
Cornwall Square is a large enclosed mall that overlooks Lamoureux Park and the St. Lawrence River in Downtown Cornwall. The mall is home to over 60 retailers and restaurants.
Categorised in: Business