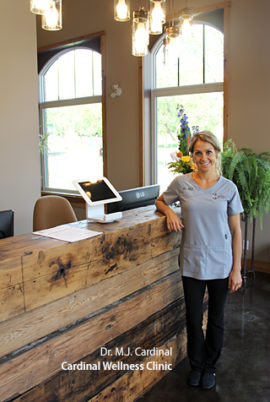 Cardinal Wellness Centre Opens at Cotton Mill
September 2, 2016
Cornwall Ontario – Residents in Le Village and Cotton Mill business district are welcoming a new business.
The Cardinal Wellness Centre has officially opened its doors at 703 Cotton Mill Street.
"We are very excited to bring an expanded lineup of services to the residents of Cornwall," says Dr. Marie-Josée Cardinal.  "We have more than doubled in size with the move, and have increased our staff to 7."
The Cardinal Wellness Centre offers physiotherapy, acupuncture, massage therapy and chiropractic services, in addition to a popular weight loss program.  Staff and clients alike are enjoying the 2200 sq.ft. of modern clinic space in a historic mill building. Visitors are greeted with a counter made from the original wood beams used in the cotton mills and large windows that provide panoramic views of the neighbourhood.
"The space is beautiful," says Dr. Cardinal. "Having your office along the waterfront is simply fantastic!"
Dr. Cardinal was born and raised in Cornwall, graduated from École Secondaire La Citadelle and later from the University of Ottawa where she obtained a Bachelor in Sciences with a specialization in Health Sciences. She then attended the New York Chiropractic College (NYCC) in Seneca Falls to obtain her Doctor of Chiropractic (D.C.) degree.
"After NYCC I was preparing to start my career in Florida when it dawned on me that I would be missing out on the quality of life I had cherished so much in my hometown," she says. "Sometimes you have to move away from Cornwall to truly appreciate it."
Dr. Cardinal returned to Cornwall and established the Cardinal Chiro Clinic on Second Street in Downtown Cornwall. Just 5 years later, she has begun the second arc of her career.
To honour the occasion of their grand opening, Dr. Cardinal has reduced prices on a variety of services for the month of September.
Chiropractic Initial Visit: $50 instead of $80
Physiotherapy Initial Visit: $50 instead of $80
Acupuncture Initial Visit: $50 instead of $80
1 hour Massage: $65 instead of $85
New Weight Loss Challenge starting on Sept 6th.
The Cardinal Wellness Centre is open Monday to Friday and can be reached by calling 613-935-9874
Dr. Cardinal and the Cotton Mill district was featured in 2016 Cornwall Living Magazine on page 50.
About the Cotton Mill District
The Cotton Mill district is located in Le Village along the banks of the St. Lawrence River. Historic mill buildings have been renovated with the assistance of the City of Cornwall's Community Improvement Programs. The site now includes residential condominiums and a growing list of businesses, including the Corus Entertainment, Cotton Mill Pharmacy, medical offices and the CKDM accounting firm. The popular Waterfront Trail connects the area to Lamoureux Park to the West and St. Lawrence College to the East.
Categorised in: Business