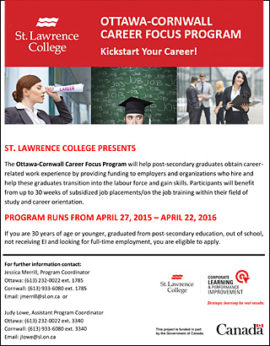 Career Focus Program Offers Subsidized Job Placements
May 7, 2015
Cornwall Ontario – A new program from St. Lawrence College has emerged that offers a great opportunity for businesses and recent graduates to connect in what could end up being a long term, mutually beneficial relationship.
The Ottawa-Cornwall Career Focus Program will help provide funding to help employers fill open positions with post-secondary graduates who are looking for work.
"The program helps both parties," says Glenna Schaillee, Manager of Community Outreach and Corporate Learning at St. Lawrence College.   "Graduates obtain career-related work experience, and employers gain an educated and motivated employee."
Information Session
An information session is being in held in Cornwall on Friday May 8 at 1:00 pm in Room M3530 at the Cornwall Campus of St. Lawrence College.
Job Seekers
Eligible people must be 30 years of age or younger, have graduated with a post-secondary education, be out of school, not receiving EI and looking for full-time employment. Interested people are invited to register with the program as soon as possible, and once approved, they will have a new tactic to talk to employers.
Employers
Employers will benefit by receiving up to 30 weeks of full-time, subsidized job placements, for up to $15.00 per hour.  If an employer has found an eligible potential employee, they must also register and make a former application for funding. Employers may be eligible for a subsidy of up to $15.00/hour x 35 hrs/wk x 30 wks = $15,750.00.  Companies must be a registered business or organization in Ontario, including not-for-profit agencies. Preference will be given to private sector employers.
"The paperwork is not extensive, and the benefits are quite significant," says Ms. Schaillee. "The value of finding an educated employee that can add value to your company is priceless."
Funding is currently in place for 24 positions and the program is expected to run until April 22, 2016. The program is being funded by Service Canada.
More Information
More information is available from the Program Coordinator, Jessica Merrill who can be reached in Cornwall at (613) 933-6080 ext. 1785