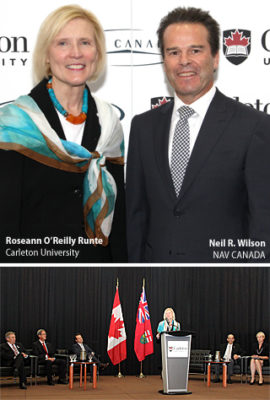 Carleton and NAV CANADA to Bring Programs to Cornwall
October 13, 2015
Cornwall Ontario ‒ Carleton University and NAV CANADA have signed an agreement to work toward establishing an Aerospace Centre of Excellence in Cornwall that would offer a variety of pioneering programs to students.
The undertaking will integrate the expertise of NAV CANADA, the country's Air Navigation Services Provider, and Carleton, home of Canada's first Bachelor of Aerospace Engineering program, in the research-intensive Faculty of Engineering and Design.
"One of Carleton's central goals is to work with neighbouring communities," said Carleton President Roseann O'Reilly Runte. "This entrepreneurial initiative brings together the knowledge and skills of those working at NAV CANADA and Carleton University in support of economic development. Together we will foster regional and international growth through education."
Potential programs will include professional certification courses in the areas of pilot training, air traffic management and airport management. It is expected that additional programs will be offered in the near future.
"NAV CANADA, and specifically the NAV CENTRE, are well positioned to help bring this initiative to fruition," says Neil Wilson, NAV CANADA Executive Vice President, Administration and General Counsel. "Our Cornwall facilities are ideal for a specialized campus, with its comprehensive learning spaces as well as student accommodations, while our organization's expertise in Air Traffic Management will support related course delivery and provide access to leading industry technologies and simulation training."
The announcement was made to a large crowd in the auditorium of the NAV CENTRE.
"At Carleton, we provide leading-edge programs that address the needs of the aerospace industry," said Rafik Goubran, Dean of the Faculty of Engineering and Design. "The collaboration with NAV CANADA will improve Canada's position in the global aviation market."
Next steps include refining terms of reference, scope of work and a business model, with a target of having a small selection of courses operating in the fall of 2016.
The aerospace endeavour is just one area of co-operation between Carleton and Cornwall-based organizations. A committee comprised of representatives from Cornwall, Carleton, Akwesasne Mohawk Territory and the United Counties of Stormont, Dundas and Glengarry has been working since 2014 on ways to deliver niche post-secondary programs in Cornwall that build on its economic and cultural profile.
"This is an important day for Cornwall," said Mayor Leslie O'Shaughnessy. "A lot of work has gone on behind the scenes, led by Gerry Benson and his committee, and today we as a community can stand up and say job well done!"
Working with the Ontario Government, the committee is focused on developing a collaborative degree program in Environmental Science, Management and Stewardship, forging initiatives in First Nations governance and capacity building and strengthening pathways for students between Carleton and St. Lawrence College.
About Aerospace at Carleton
Carleton aerospace is one of the largest and most comprehensive academic aerospace research programs in Canada with a wide range of unique, state-of-the-art research facilities, more than 600 students and 30 professors.  Carleton is recognized internationally as a leader in aerospace education and research, with renowned achievements and firsts in the fields of aerospace and aeronautics. Learn more about the Centre at www.Carleton.ca.
About NAV CANADA
NAV CANADA is the country's private sector civil air navigation services provider. With operations from coast to coast to coast, NAV CANADA provides air traffic control, flight information, weather briefings, aeronautical information services, airport advisory services and electronic aids to navigation.
The NAV CENTRE is training and conference venue owned and operated by NAV CANADA. It offers access to 550 guest rooms, 70 state-of-the-art classrooms and meeting rooms, as well as an auditorium. Other amenities include a gymnasium and fitness facilities as well as multiple dining options. The NAV CENTRE is also an accredited member of the International Association of Conference Centres (IACC), provided for adhering to globally-recognized standards in hospitality service. Learn more about the Centre at www.navcentre.ca.