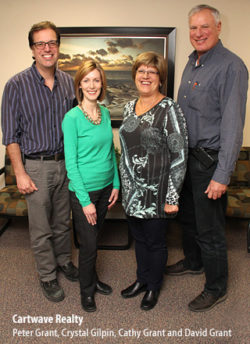 Cartwave Realty Website Attracting New Residents
December 15, 2016
Cornwall Ontario – One of the City's largest land development companies is looking to attract new residents to Cornwall.
Cartwave Realty has launched a new website to showcase the various residential lots that it has developed throughout the city.
"We have been building safe attractive neighbourhoods in Cornwall for 30 years," says Crystal Gilpin, company spokesperson. "The affordable cost of living is one of the best parts about living here. We hope to attract many new residents to this beautiful city!"
The new website features a number of active subdivision developments and showcases over 150 residential lots:
Bellwood Ridge Subdivision, south of Pitt & Tollgate:  65 new residential lots of which more than 25% are already sold.
East Ridge Subdivision, south of Second Street in the east end of Cornwall: construction has begun on 48 new residential lots. The previous phase in this subdivision was 95% sold out in the first two weeks.
Northdale Terrace Subdivision, just south of Cornwall Centre Road: Only 8 out of 27 lots remain available.
St Michel Subdivision: just south of Optimist Park: only 16 lots are remaining for sale.
Parkwood Estates Subdivision: north of Riverdale –  design approvals nearing completion for the construction of 39 new lots.
Individuals can purchase a lot and choose their own builder to build their dream home. Local contractors also purchase lots and build spec homes for potential buyers.
"There is still a strong demand for new housing in Cornwall," says Ms. Gilpin. "It's rewarding to create neighbourhoods that people want to move to when they make a fresh start and build memories that will last for years."
About Cartwave Realty
Cartwave Realty is a family-owned business that specializes in developing residential lots in Cornwall and the surrounding area since 1986. Cartwave subdivisions typically contain a mixture of lots for single-family homes and semi-detached homes. Maps are available for each subdivision.
The above story was included in the 2016 Year in Review report complied by Cornwall Economic Development.
Categorised in: Business