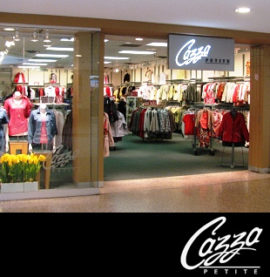 Cazza Petite Coming to Cornwall Square
October 2, 2013
Cornwall Ontario – A new ladies' wear store is coming to Cornwall Square in October.
Cazza Petite is a chain of women's clothing stores that caters to all the needs of women 5'4" and less. With over 30+ stores throughout Quebec, Ontario and the Maritimes, Cazza Petite offers a broad range of clothing and accessories, including jackets, pants, sweaters, blouses, dresses and outerwear, from well known Canadian manufacturers such as Conrad C, Lana Lee, Tribal, Zoe and more.
Cazza Petite will be located on the second level near the top of the escalator.
"We are thrilled to add Cazza Petite to our lineup of stores at Cornwall Square," said Marketing Director Jennifer MacIsaac. "For years, our customers have been telling us that they would love to see a petites store in the mall. This store will satisfy the demand of the demographic that has been searching for this product offering in Cornwall."
About Cornwall Square
With over 60 stores and services, including a food court, Cornwall Square continues to be a leader in the community and is recognized as Cornwall's busiest shopping destination.
Cornwall Square is managed by Triovest Realty Advisors Inc., a dynamic Canadian property management company providing leasing and property management services for a portfolio of over 34 million square feet of office, retail and industrial properties across the country.
Cornwall Square is located in Downton Cornwall at 1 Water Street East.