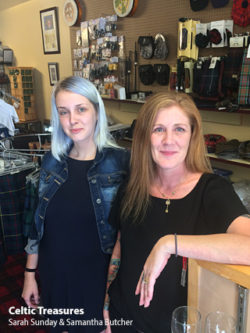 Celtic Treasures Returns to Downtown Cornwall
October 5, 2017
Cornwall, Ontario – Samantha Butcher has a simple, yet passionate answer when asked about relocating her business to downtown Cornwall.
"There's no other place to be!" gushed the owner of Celtic Treasures.
And Butcher knows what she is talking about.
Celtic Treasures was once located on Pitt Street in downtown Cornwall a few years ago, when it was paired with another store in Maxville, both of which offered Celtic, Scottish and Irish products, with liberal doses of English and Welsh materials as well.
"But when my lease ran out for the store in Cornwall I decided to concentrate on the one store in Maxville," explained Butcher.
History repeated itself when the building in Maxville recently sold and Butcher had to once again make a decision about where she wanted to locate Celtic Treasures.
The solution was a simple one.
"I get my old customers back, as well as my existing customers from Maxville, plus new customers who are now seeing us for the first time," Butcher said.
Celtic Treasures offers everything from clan items to coats of arms, tartans, sashes, shawls scarves, ties and kilts.
They even rent kilts for special occasions like weddings.
"We can do the whole kilt outfit," said Butcher.
There's also shield plaques, clocks, mugs, magnets and key chains.
Celtic Treasures, located at 17 ½ Second Street East and is open Tuesday to Friday from 10 a.m. to 5 p.m., and Saturday from 10 a.m. to 3 p.m. The store can be reached at 613-933-0555.
More info can be found online:
Categorised in: Business