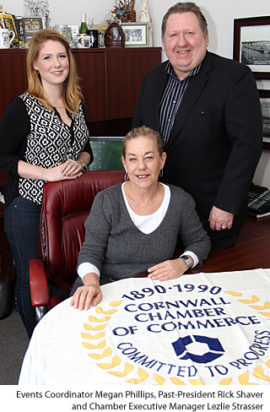 Chamber Bringing Ontario Convention To Cornwall
February 19, 2014
Cornwall Ontario –  The Cornwall Chamber of Commerce announced today that it has sealed the deal to bring the 2015 Ontario Chamber of Commerce (OCC) AGM and Convention to Cornwall.
"Our Executive Manager, Lezlie Strasser, presented a comprehensive proposal to the OCC," said Kevin Hargreaves, Chamber President. "The OCC liked what it saw and has decided to hold its annual event right here in our community."
The event, which will bring over 200 business leaders from across Ontario to Cornwall, is seen as an outstanding opportunity to showcase the community and the many things it has to offer.
The three day conference will be held in May 2015, at the Nav Centre. To launch the event and showcase the City of Cornwall, a delegation from the Cornwall Chamber and Nav Centre will journey to the OCC's 2014 AGM and Convention in Sault Ste. Marie this coming May.
"Our trip to the Sault will be an exciting opportunity to introduce delegates to Cornwall and to highlight the warm hospitality and outstanding program that will await them," says Lezlie Strasser, Executive Manager of the Cornwall Chamber.
Representing 60,000 members in chambers of commerce and boards of trade across Ontario, the OCC supports economic growth in the province by advocating for pro-business policies and defending business priorities at Queen's Park. It is the principal voice for organizations ranging from small businesses, to major corporations, and industry associations.
"Lezlie and her team have made a rock solid business case for her community," says Allan O'Dette, President & CEO of the OCC. "We are excited to learn first-hand about what makes Cornwall such an attractive destination to live and do business."
"This is a unique, economic development opportunity for the Chamber to promote Cornwall as a vibrant and growing community to business professionals throughout Ontario and it is confident there will be a number of positive spinoffs because of the event itself," adds Hargreaves.
About the Chamber of Commerce
The Cornwall and Area Chamber of Commerce is the unified voice of the region's business community speaking towards growth, leadership and innovation. With direction from the elected board of directors, the Chamber looks to continuously progress the community through political advocacy, knowledge-based development and innovative opportunities.
The Chamber has close to 700 members.  For more information, please click on the following links: