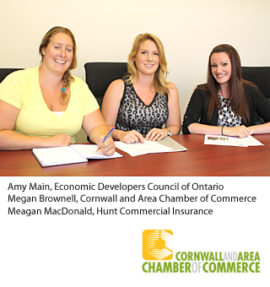 Chamber Launching Network For Young Professionals
July 22, 2014
Cornwall Ontario – The Cornwall and Area Chamber of Commerce is creating a new platform for young professionals in the community to connect and build business relationships.
The Cornwall Chamber Young Professionals is being launched with a long-term goal of creating benefits for the community's young business leaders and the local economy.
"Our goal is to get Cornwall's future leaders connected to their peers and the local business community," said Megan Brownell, Assistant Executive Director of the Cornwall and Area Chamber of Commerce. "We are creating a network for our young professionals to build relationships, develop professionally and contribute to the economic development of Cornwall."
The group plans to eventually host networking events, business presentations and other special events for its members.
The Chamber is seeking young professionals who are interested in being involved in the organizing committee for the group. Those interested in getting involved can contact Mrs. Brownell at brownell@cornwallchamber.com or (613) 933-4004 ext. 222.
"We are hoping to get as many people involved as possible," said Mrs. Brownell. "We are looking to attract people under the age of 40 and the group is open to anyone (Chamber member or not) looking to further their career through networking with others."
A Facebook page has been established for the Cornwall Chamber Young Professionals  to reach out to local professionals and get feedback on their interests and needs.
About the Cornwall and Area Chamber of Commerce
The Cornwall & Area Chamber of Commerce is a dynamic and fully autonomous business organization representing close to 700 businesses throughout the Cornwall area. In meeting its mandate as an advocate for business, the Chamber is a member of and has the resources of both the Ontario and Canadian Chambers of Commerce and is part of Canada's largest business network with access to 65,000 members provincially and 170,000 members nationally.
For more information, please visit www.CornwallChamber.com.