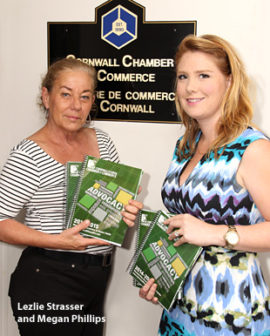 Chamber Membership Directory Now Available
September 3, 2014
Cornwall Ontario – A venerable business tool has re-emerged and that has made hundreds of local business owners very happy.
The Cornwall and Area Chamber of Commerce has published the 2014-2015 Membership Directory and Buyers Guide and copies are now available.
"We thought that online tools such as our own membership directory at CornwallChamber.com had made printed directories somewhat obsolete, and had therefore retired the book," says Lezlie Strasser, Executive Manager of the Chamber. "It turns out that many of our members were still using the Directory, and we're happy to bring it back."
The Directory includes information on over 630 Chamber members and is organized in three sections:
Membership Directory: Each firm is listed alphabetically with full contact information
Buyers Guide: Companies are grouped together according to the type of business
Who's Who Directory: Individual people are listed alphabetically, along with their email address.
The Directory also includes a 6 page introduction to Cornwall and the local economy that has been prepared by Cornwall Economic Development.
"The Directory is very popular with people from outside of Cornwall looking to access goods and services from Chamber members, so it makes sense to give them more information about the benefits of living and doing business here," says Ms. Strasser.
The 138-page Directory was designed by Mark Descotes of Marksman Design and printed by Angel Printing of Cornwall, both Chamber members. The Directory is also supported by advertising from a wide variety of Chamber members.
Over 900 copies of the Directory have been printed and are available for $20 at the Chamber office at 113 Second Street East.
About the Chamber of Commerce
The Cornwall and Area Chamber of Commerce is the unified voice of the region's business community speaking towards growth, leadership and innovation. With direction from the elected board of directors, the Chamber looks to continuously progress the community through political advocacy, knowledge-based development and innovative opportunities.
The Chamber has close to 700 members.  For more information, please click on the following links: