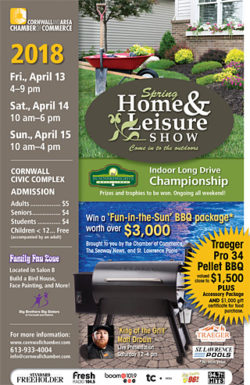 Chamber Spring Show Has Lots for Everyone
April 13, 2018
Cornwall Ontario –  It's a welcome tradition for thousands of Cornwallites as we welcome the warmer weather after a long cold winter. It's the annual Spring Home & Leisure Show and the Chamber invites you to the Civic Complex and Come in to the Outdoors.
"After a long, cold winter, our Spring Show promises to be a wonderful way to leave the cold and snow behind," reports Lezlie Strasser, the Chamber's Executive Manager. "Once again we'll have close to 100 exhibitors on hand with all of the latest in home and garden products and services. It promises to be an exciting event for thousands of people across the Cornwall region."
As is the Show's tradition, there will be many demonstrations and each exhibit will have professionals on hand to answer questions and offer handy tips for your latest home improvement project. It's a great way for area consumers to get a first-hand look at terrific new products and services to help them get the most out of their lawns and gardens.
BBQwithDREW
Matt Drouin from BBQwithDREW will be giving a live grilling presentation on Saturday from 12 to 4pm.
With hundreds of live barbecue events, demonstrations, and feasts under the belt, BBQwithDREW is a growing Canadian BBQ brand, pit master and blogger, inspired by true southern BBQ, that shares the passion for the wood-fired experience and the barbecue industry with you.
Golf and Family Fun
Two perennial favourites at the Spring Home and Leisure Show are the Summerheights Golf Challenge and Family Fun Zone. The Chamber is pleased to announce that both of them will be back for this year's event.
Specical Contests
Along with the exhibits and fun activities are the prizes and once again, some lucky show visitor will walk away with a bonus — just for visiting. This year's grand prize is a spectacular $1,500 Traeger Pellet BBQ. It comes with a terrific accessory package along with a $1,000 gift certificate for food purchases with a total value of over $3,000.
Show Dates and Times
The Spring Home & Leisure Show is open during the following times:
Friday April 7th from 4PM – 9PM
Saturday April 8th from 10AM – 6PM
Sunday April 9th from 10AM – 4PM
Admission to the show is $5 for adults and $4 for seniors and students. Admission is free for children under 12 who are accompanied by an adult.
About Cornwall Civic Complex
Situated in scenic Lamoureux Park on the banks of the St. Lawrence River, the Cornwall Civic Complex is a highly versatile and modern facility that includes the 5,000 seat Ed Lumley Arena, Cornwall Sports Hall of Fame and Aquatic Centre.
For more information on the Civic Complex, please visit www.Cornwall.ca.
About the Cornwall Chamber of Commerce
The Cornwall and Area Chamber of Commerce is the unified voice of the region's business community speaking towards growth, leadership and innovation. With direction from the elected board of directors, the Chamber looks to continuously progress the community through political advocacy, knowledge-based development and innovative opportunities.
The Chamber has close to 700 members.  For more information, please click on the following links:
Categorised in: Business