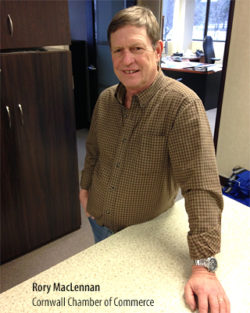 Chamber to Celebrate Business Excellence
January 19, 2017
Cornwall Ontario – Business and community leaders are gearing up for one of the most anticipated evenings of the year.
The Business Excellence Awards and the Citizen of the Year Banquet is set to go for February 25th at the NAV CENTRE.
"The evening is an elegant mix of networking, exquisite food and superb entertainment, yet people are really there to celebrate success in the community," says Rory MacLennan, President of the Cornwall Chamber of Commerce. "Anticipation builds throughout the evening as various business awards are handed out, leading to the announcement of Citizen of the Year."
The awards have been given out for over two decades. The Chamber collects nominations from the community throughout the year. The deadline for nominations is January 27, 2017.
"It is important to note that nominations are reviewed by a committee of peers, and evaluated against time-tested criteria," notes Mr. MacLennan.
Business Excellence Awards
The Business Excellence Awards recognize firms and individuals who have distinguished themselves by fostering growth, innovation, community service and excellence in their sectors. The Business Excellence Awards have been handed out since 1988. The current line up of awards are as follows:
Small Business of the Year
Business of the Year
Economic Impact
Entrepreneur of the Year
Tourism Excellence Award
Individual achievement in business is also recognized with the following awards:
Above and Beyond
Lifetime Business Achievement
Team Cornwall Ambassador of the Year
The awards are rounded off with two special awards that are not necessarily awarded each year:
Breakthrough
Dr. Garth Taylor Humanitarian Award
Citizen of the Year
Since 1972, when the very first Citizen of the Year award was handed out, the Chamber has regularly honoured citizens who have made an outstanding contribution in the community. Nominations are evaluated with respect to ongoing leadership, dedication and the positive impact the individual has made on the community.
Additional information on each of the above awards, including previous winners and the nomination process, can be found on the Chamber website.
Tickets
The 2017 dinner will be held on February 25th at the NAV CENTRE. Tickets are $125.00 per person and can be purchased by calling or emailing the Chamber.
Nominations
Nominations from the community are encouraged, and forms can be downloaded from the Chamber website. Once completed, nominations may be sent electronically or hand delivered to the Chamber office at 113 Second Street East. Nominations must be received no later than 4:00 p.m. Friday, January 27, 2017.
About the Cornwall Chamber of Commerce
The Cornwall and Area Chamber of Commerce is the unified voice of the region's business community speaking towards growth, leadership and innovation. With direction from the elected board of directors, the Chamber looks to continuously progress the community through political advocacy, knowledge-based development and innovative opportunities.
The Chamber has close to 700 members.  For more information, please click on the following links:
Categorised in: Business