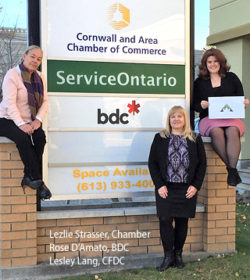 Chamber's Commerce Court Becomes Downtown Business Centre
November 9, 2016
Cornwall Ontario – Downtown Cornwall continues to establish itself as the business centre of city and the region.
Two new agencies, Cornwall and the Counties Community Futures Development Corporation (CFDC) and the Business Development Bank of Canada (BDC), have established new offices in the Commerce Court building on Second Street, which already houses the offices of the Cornwall Chamber of Commerce and the Heart of the City organization.
The announcement was made jointly by CFDC Executive Director Lesley Lang and Chamber Executive Manager Lezlie Strasser.
"We are pleased to join with BDC, the Chamber and Heart of the City in a downtown location," states Ms. Lang. "Being co-located with like minded organizations promotes more partnership initiatives and makes accessing business funding and support simpler for our clients."
Ms. Strasser was also pleased that the CFDC and BDC has become part of its Commerce Court group.
"Each of those organizations has a business focus, just like the Chamber of Commerce," noted Ms. Strasser. "Having this kind of business centre in downtown Cornwall is good for both our members and the business community as a whole."
The Chamber purchased and renovated the building at over a decade ago. The building is also home to the offices of WEBtech and Busitech.
About the CFDC
The CFDC delivers a broad range of programs and services to support community economic development and small business growth. It is funded through the Federal Economic Development Agency for Southern Ontario (Fed Dev Ontario).
About BDC
BDC is Canada's business development bank, one dedicated exclusively to entrepreneurs. Its mandate is to help create and develop strong Canadian businesses through financing, advisory services and indirect financing, with a focus on small and medium-sized enterprises.
About Heart of the City
Heart of the City is a community improvement initiative created by the Chamber more than 15 years ago and has spearheaded close to $50 million in revitalization projects throughout Cornwall's urban core. Established in 1890, the Cornwall Chamber of Commerce has been an advocate for the business community and the entire Cornwall region for over 125 years.
About the Chamber of Commerce
The Cornwall and Area Chamber of Commerce is the unified voice of the region's business community speaking towards growth, leadership and innovation. With direction from the elected board of directors, the Chamber looks to continuously progress the community through political advocacy, knowledge-based development and innovative opportunities.
The Chamber has close to 700 members.  For more information, please click on the following links:
Categorised in: Business