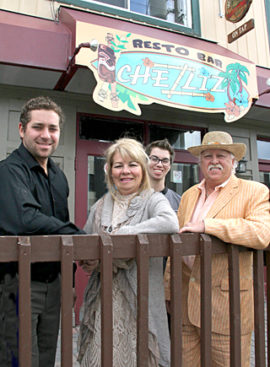 Chez Liz Resto Bar Welcome Addition to Le Village
April 1, 2016
Cornwall Ontario – Gilles Seguin and his wife Lizanne Seguin have a new lease on life. The couple have opened a new restaurant in Le Village.
Chez Liz Resto Bar will have a Carribbean theme that extends from the decor to the menu. The menu will feature food with lots of spices. They will also respect the tradition of the area and one of the feature plates will be Smoked Meat on a pretzel bun.
"We love the culture of the south and at the same time want to celebrate our Francophone heritage," says Gilles Seguin. "We believe in Le Village and are happy to contribute to its ongoing revitalization."
Chez Liz will have room for 74 people indoors plus another 28 on the patio which faces Montreal Road.
The couple have spent the past several weeks renovating the interior and patio. Yet to come is a "tiki-hut" treatment for the patio.
"We wanted to create a space that was warm and welcoming," says Lizanne. "We want people to feel comfortable here and make us their home away from home."
Gilles and Lizanne have also enlisted the aid of their two sons, Derik and Janik.
Chez Liz is working with the Port Theatre to help attract more people to Le Village. They will have an ongoing draw each day for a pair of tickets to the next upcoming event at the Port.
The Le Village district continues to evolve. The Port Theatre itself has been renovated, and several property owners have taken advantage of the Heart of the City community improvement program. New condominiums at the nearby historic Cotton Mills are bringing new residents and merchants to the area as well.
Chez Liz opens today at 4pm with Robert Cote playing music from 6 to 9. A grand opening event is planned for May 7.
Chez Liz is open 7 days a week, from 11am till close.
Chez Liz Resto Bar
101 Montreal Road
613 933-7441
Categorised in: Business