City Boat Launches and Marina 200 Open this Saturday
May 14, 2020
Cornwall Ontario – The City of Cornwall's boat launches and Marina 200 are open as of Saturday, May 16.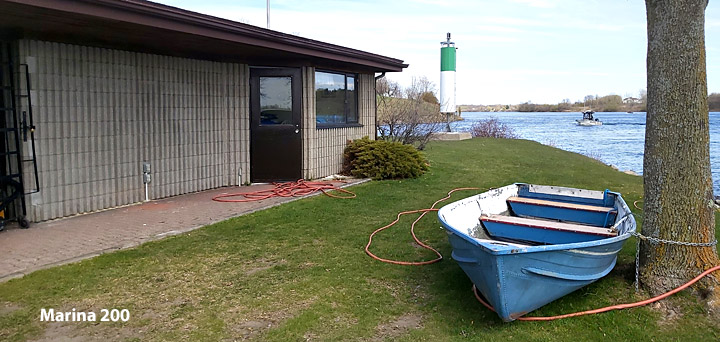 The Ontario government has announced that additional seasonal services and activities will be permitted to open as early as Saturday May 16, 2020 at 12:01 a.m., in time for the Victoria Day long weekend. This includes marinas and boat launches.
"We are ready to welcome boaters back to Marina 200 for a season of safe boating," says Tara Quesnel, Marina Coordinator.
Marina 200 is the hub of boating activity on the Cornwall waterfront, offering a number of slips for transient and seasonal boaters. The marina offers a number of services including water, electricity and pump out services. Slips are still available for the season. For information about Marina 200 including how to rent a slip, please click on the following link:
Boat Launch 
Boaters looking to access the St. Lawrence River can do so via boat launches at the west end of Lamoureux Park as well as at Guindon Park. Boaters can park their trailers at the Lamoureux Park boat launch for a small fee. Day Permits ($10) are available at the payment machine on-site.  Boaters who want to purchase 30-day ($40) or Seasonal Passes ($100) may purchase permits online by clicking here. For more information about parking permits, please click here.
The City of Cornwall has purchased new docks for both boat launch locations. Unfortunately, the delivery of the docks from the United States has been delayed. To ensure boaters may still launch safely, temporary docks have been installed.
Other Recreational Amenities
Cornwall's recreational path network, including the Waterfront Trail, is open and accessible to the public. City parks are open as well, however play structures and outdoor gyms remain closed.  Residents are welcome to walk and bike while maintaining a safe distance of 2 metres. Indoor municipal recreation facilities remain closed.
"We are getting a glimpse of what the new normal looks like. The long weekend in May is usually a hopeful time, and it still is – even during a pandemic," said Mayor Bernadette Clement. "More and more, we are permitted to access recreational areas and support additional local businesses. Please do so safely by keeping your distance when you leave home, and by staying home if you're sick."
Outdoor tennis/pickleball courts, baseball diamonds, football fields, basketball courts, and ball hockey courts will open as of Tuesday, May 19.
Public Safety
The health and safety of residents remains the City of Cornwall's top priority. Please remember…
Residents should only access recreational facilities with other members of their household.
Residents should maintain a safe distance of 2 metres between yourself and other residents at all times.
Residents should wash their hands before and after coming into contact with commonly touched surfaces like hand rails and gates.
Residents who are ill, who have COVID-19 symptoms, or who have been advised to self-isolate should not use public spaces.
ADDITIONAL RESOURCES

We summarize the latest news about the impacts of COVID-19 on Cornwall businesses on a daily basis. Click on the following link to view: