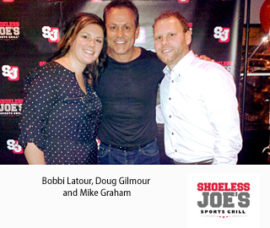 City Receives $10K Donation From Shoeless Joe's
January 29, 2015
Cornwall Ontario – The City of Cornwall has received a $10,000 donation from Shoeless Joe's Sports Grill through the 'If Your Team Wins, Your Community Wins' competition to assist with a community refresh project.
The donation was announced during a celebration party on Wednesday night at Shoeless Joe's on Brookdale Avenue.
Former Cornwall Royal and NHL great Doug Gilmour was on hand to help share the good news, and he received a hero's welcome from the full house of hockey fans on hand. The Stanley Cup winner toured the restaurant and stopped to sign autographs and pose for pictures with the many fans on hand.
The funds will go towards painting a centre line on a portion of Cornwall's recreational path system. Stretching approximately 40 kilometres, Cornwall's recreational path is one of the City's most popular recreation assets. It's also one of the busiest, with cyclists, pedestrians, joggers, in-line skaters and many others making use of the path on a regular basis. The centre line will provide safety benefits in addition to enhancing the overall appearance of the path.
"On behalf of the community, I want to thank Shoeless Joe's and the local owners, Bobbi Latour and Mike Graham, for this generous donation," said Mayor Leslie O'Shaughnessy. "These funds will go towards an important recreation project that will benefit the entire community."
The $10,000 donation is just one example of the restaurant's commitment to the community. Mr. Graham and Mrs. Latour – both of whom have Cornwall roots – took ownership of Shoeless Joe's in November, and they are supporting many local sports teams through the restaurant's Home Team Advantage program.
"Our intention is to continue and do even more," said Mr. Graham. "It's our opportunity to give back to the community."
The City of Cornwall received a donation of $20,000 last year through a similar initiative by Shoeless Joe's. The funds were used to make improvements to the clubhouse facilities at Joe St. Denis field.