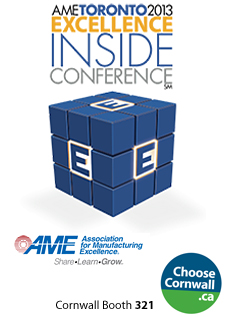 City to Exhibit at the AME Conference in Toronto
October 25, 2013
Cornwall Ontario – Cornwall's Economic Development Department will be looking to talk to some of North America's most productive manufacturers at the upcoming AME Conference in Toronto. Joining the Cornwall Economic Development team will be local companies Busitech and SigmaPoint to drive home the advantages of doing business in Cornwall.
The 29th Annual 2013 International Conference of the Association for Manufacturing Excellence (AME) takes place October 21-25 at the Sheraton Centre in Toronto. AME keeps its members informed of the latest developments in management and operational techniques — such as LEAN.  These tools are vital to the manufacturing sector's continued success.
"Manufacturing, especially advanced manufacturing and food processing, remains a key target for our investment attraction efforts," said Mark Boileau, Manager of Cornwall Economic Development. "The success of SigmaPoint and Busitech speak to the ability of a manufacturer to successfully compete on a global stage from a Cornwall location."
The Cornwall booth is 321 and information on development opportunities, as well as local manufacturing companies will be on display. SigmaPoint officials will also be in the booth to provide information about their award winning LEAN journey.
"Sigmapoint is committed to the ideal of zero waste by following the LEAN philosophy," says Dan Bergeron, President of SigmaPoint . "The AME Conference will allow us to not only review the latest ideas on improving manufacturing excellence, but also to share SigmaPoint's success story with potential customers."
Cornwall software development company Busitech has their own booth (319) next to the Cornwall booth.
"Some Canadian companies are lagging behind their competitors in terms of productivity and that needs to change if we are going to have a healthy manufacturing sector," says Peter Gault, President of Busitech. "Busitech helps companies around the world improve their processes and we look at the AME Conference as an opportunity to showcase our products and services."
The AME Conference regularly attracts top executives from some of the most efficient and successful manufacturers in the North America and the world.  These "C-Level" executives are decision makers that will be in a position to consider site selection options when it comes time to relocate or expand their manufacturing operations.
"Cornwall has a number of unique benefits, including affordable real estate and electrical rates, a strategic location and an experienced workforce," says Bob Peters, Senior Development Officer.  "We continue to have more people per capita employed in manufacturing than in Ontario and Canada."
The Ontario East Economic Development Commission will enhance the presence of Cornwall and Eastern Ontario with a booth in the same aisle.
The AME Conference has previously been held in Chicago (2012), Dallas (2011) and Baltimore (2010).
About Busitech
Busitech is a privately-owned software company located in Downtown Cornwall. Busitech has been developing software solutions for the manufacturing sector for over 25 years with a focus on one goal: to bring continuous improvement to the world of quality control in manufacturing. Many of the staff are graduates of St. Lawrence College in Cornwall.  For more information visit www.busitech.com
About SigmaPoint
SigmaPoint Technologies Inc. is an electronic manufacturing services (EMS) provider focused on developing long-term partnerships with clients and suppliers. SigmaPoint provides end-to-end assembly services for highly complex electronic products within communication, medical, defense, industrial, and transportation markets. For more information visit www.sigmapoint.com