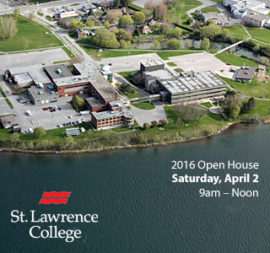 College Open House this Saturday April 2
March 30, 2016
Cornwall Ontario – This could be the start of something big.
St. Lawrence College will be holding an Open House this weekend at the Cornwall campus from 9:00am to 1:00pm.
"The open house provides prospective students and their parents with a chance to see first hand what college life is all about," says Debbie Stava, Dean of the Cornwall Campus. "Whether you are just beginning your search for a college or ready to make a decision; you'll get everything you need to know about St. Lawrence College's programs, admission process, student services and campus life."
The Cornwall Campus of St. Lawrence College is nestled on the banks of the St. Lawrence River, immediately adjacent to the popular scenic trail. The campus has recently received a major redevelopment, resulting in new class rooms, new equipment and an overall improved experience.
College staff will be on hand at the Open House to offer guided campus tours led by a student ambassador, answer questions about program options and help students develop an admissions road map that is easy and straightforward. Some of the topics discussed will  include:
What to Study
Discover what programs are offered at St. Lawrence College and what are the prerequisites you need to get into them.
Campus Life
Learn about living on campus and how you can become involved on campus – what kind of clubs, athletic teams, recreation facilities or job opportunities are available.
Paying for College
Find out about tuition costs at St. Lawrence College and when and how to apply for scholarships and bursaries. Learn more about Financial Aid & the Ontario Student Assistance Program (OSAP).
Planning for Success
Find out more about our student support services. Ask about where you can get help with writing papers/college level assignments, learning to study and time management.
Attend the SLC Open House this spring and see all there is to love about St. Lawrence College. Participants also have the chance to win $1000 towards tuition at SLC for this fall.
Spring Open House 2016
Saturday, April 2, 2016 – 9:00am – 1:00pm (Cornwall Campus)
About St. Lawrence College
With three campuses in Brockville, Cornwall, and Kingston, St. Lawrence College is an integral part of the economic life and social fabric of Eastern Ontario with a close-knit community of 7,000 full-time students, and more than 70,000 alumni. Hundreds are also enrolled in online and continuing education courses each year. SLC college has many Applied Research projects in progress, and its Corporate Learning and Performance Improvement group has helped more than 350 organizations grow and prosper.
The Cornwall Campus is nestled on the banks of the St. Lawrence River, and shares its campus with Aultsville Theatre, the head office of the Canadian Colleges Athletics Association and the St. Lawrence River Institute of Environmental Sciences.
Categorised in: Business