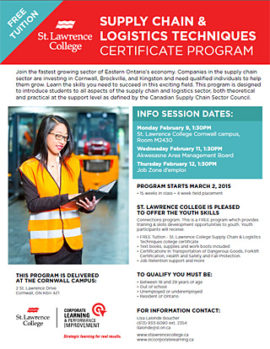 College Receives Funding For Logistics Program
February 4, 2015
Cornwall Ontario – St. Lawrence College is offering another instalment of its popular Supply Chain & Logistics Techniques certificate program this March.
And the best news of all – this time it is FREE to qualified students.
The program is designed to introduce students to all aspects of the supply chain and logistics sector, both theoretical and practical at the support level as defined by the Canadian Supply Chain Sector Council. Funding has been secured from the Youth Skills Connection program to provide free tuition and supports for 2 intakes of 14 youth (28 total). The Youth Skills Connection program is funded by the Ministry of Economic Development, Trade and Employment.
This funding will provide free tuition and supports for 2 intakes of 14 youth (28 total) – 16 week Supply Chain & Logistics Techniques certificate program, followed by a 4 week placement.
The program has been offered before and has received high marks from both students and employers.
"This course really allowed me to understand the theories and practices that are involved with running a supply chain, and also the logistic factors associated with it," said Matthieu Saunders, 2013 graduate. "The program culminated with a three-week placement where I was placed at a major distribution centre where all the theory and practice really came together to give me a hands-on understanding of all that I was taught. Without the college developing this program to address the growing need for workers in this field, I would never have been able to apply and win a position with one of the largest distribution and logistics companies in North America."
Youth participants aged 18 to 29 receive valuable training to get their career started and employers gain access to trained, enthusiastic candidates. Youth participants will receive:
FREE Tuition
Text books, supplies and work boots included
Certifications in Transportation of Dangerous Goods, Forklift Certification, Health and Safety and Fall Protection.
St. Lawrence College Supply Chain & Logistics Techniques college certificate
Job Retention support
The program is scheduled to start March 2nd, 2015. To help prospective students understand the program better, three information sessions are scheduled:
Monday February 9, 2015, 1:30 – St. Lawrence College Cornwall campus, Room M2430
Wednesday February 11, 2015, 1:30 –  Akwesasne Area Management Board
Thursday February 12, 2016, 1:30 –  Job Zone d'emploi, Cornwall
To qualify, participants must meet the following criteria:
Between 18 and 29 years of age
Out of school
Unemployed or underemployed
Resident of Ontario
St. Lawrence College also offers a Logistics and Supply Chain Management graduate certificate program is for those who have a two-year college diploma or a Bachelor's degree.
About St. Lawrence College
Located along the shores of the St. Lawrence River, SLC has three campuses in Brockville, Cornwall and Kingston. St. Lawrence College boasts 6,500 full-time students from Canada, and more than 40 countries worldwide. The SLC college community includes 20,000 part-time students, 1,000 staff, and more than 70,000 alumni. It also serves more than 3,000 Employment Services clients annually. The college has recently invested in the development of Applied Research and the revitalization of its campuses.
You can find out more information on the St. Lawrence College website: