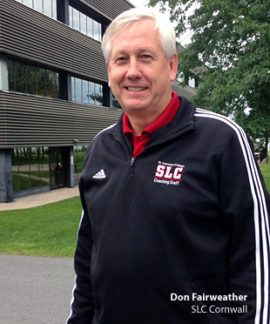 College Set To Welcome Students To Cornwall
August 28, 2014
Cornwall Ontario – St. Lawrence College is getting ready to welcome students on September 2 with activities kicking-off at 8:30 am on the Cornwall Campus. Students can participate in campus tours, information sessions, a BBQ, and games.
Dean Don Fairweather is expecting to greet over 600 first year students while at the same time welcome back hundreds of returning students.
"Faculty and staff are looking forward to seeing the campus come alive with students this September," Dean Fairweather remarked. "It is exciting to help people realize their dreams."
The Cornwall campus of St. Lawrence College provides education across a wide variety of disciplines ranging from business to arts, from technology to health sciences. This fall, the college debuts for the first time ever a graduate course in logistics.
Before classes begin students must first familiarize themselves with their college community. Orientation provides the great setting to meet new friends, connect with faculty, and establish relationships important during the next step in the college experience.
Soon the campus will be a buzz with student engagement continuing through Welcome Week activities. Welcome Week also provides students with information on support and services available on campus.
"There is a lot of opportunity for students to immerse themselves in the college experience through spirit events," said Glenn Vollebregt, President and CEO of St. Lawrence College. "These events, along with information sessions, will assist them in getting the best possible start at SLC."
Students can enjoy free ice-cream while participating in activities such as playing with fellow gamers in the first 'gaming tournament' of the year in the Shark Tank, Movie Night, and a Toga Pub Night.
For more details about Orientation and Welcome Week please visit our website www.stlawrencecollege.ca.
About St. Lawrence College
Located along the shores of the St. Lawrence River, SLC has three campuses in Brockville, Cornwall and Kingston. St. Lawrence College boasts 6,700 full-time students from Canada, and more than 40 countries worldwide. The SLC college community includes 20,000 part-time students, 1,000 staff, and more than 70,000 alumni.
St. Lawrence College is tops in the province when it comes to key performance indicators of a graduates success in finding employment. The following are updated KPI's for 2013.
93.6% of employers were satisfied with the quality of the educational preparation of St. Lawrence College graduates.
90.5% of SLC graduates found employment within six months of graduation.
84.1% of graduates were satisfied with the usefulness of their SLC education in achieving their goals after graduation.
St. Lawrence College is also featured in the Cornwall Living magazine. You can order your complimentary copy by clicking here.