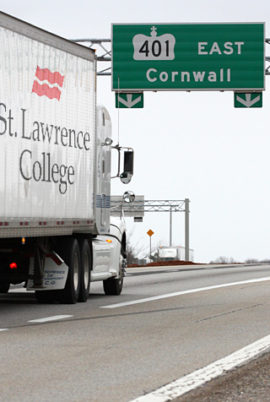 College to Offer Supply Chain and Logistics Program Again
November 4, 2013
Cornwall Ontario – St. Lawrence College is once agan offering its fast-track 18-week supply chain program at the Cornwall campus.
Entitled Supply Chain and Logistics Techniques, the 18 week program will introduce students to all aspects of the supply chain and logistics sector, both theoretical and practical.
The program starts in January, 2014 at the Cornwall Campus and is aimed at training students for entry level positions in the supply chain and logistics field.
"This course really allowed me to understand the theories and practices that are involved with running a supply chain, and also the logistic factors associated with it," said Matthew Saunders, a graduate of the inaugural program which ran earlier this year. "The program culminated with a three-week placement where I was placed at a major distribution centre where all the theory and practise really came together. Without the college developing this program to address the growing need for workers in this field, I would never have been able to apply and win a position with one of the largest distribution and logistics companies in North America."
Matthew and all of his fellow classmates all secured full-time employment following their successfull completion of the program.
The Supply Chain and Logistics Techniques program has been developed with the assistance of key private sector partners in the supply chain and logistics industry. Students are taught the very latest techniques in the following areas:
Supply chain management
Purchasing and supplier management
Logistics technology tools and resources
Information technology systems
Warehousing and transportation
Material handling
Safety procedures for warehouse operations
Business communication
Problem-solving and critical-thinking
Theoretical concepts discussed in the classroom will be further explained and developed during the three week field placement component. Students will be placed at approved business within Eastern Ontario.
"There is nothing like practical hands-on learning especially when it takes place in the real world," said William Tennant, Program Co-ordinator for St. Lawrence College.  "Students get to see first-hand what the professionals are dealing with – the documents, the people, the product and the problem solving."
A typical placement would see a student rotate through 3 job functions— shipping, receiving and warehousing.  The student would work beside existing staff as if a new hire.  They would be expected to dress and work under the same conditions as the employees.
"There is a possibility that placements may lead to job offers as the employers get to see the students interact with existing employees," notes Mr. Tennant.  "This is a 'free look' for both the employer and the potential employee – the employer gets a chance to see the student's capabilities, and the student gets to evaluate the workplace."
If an opening is not available at the placement location, the experience and employer's endorsement is a valuable asset to help the student as he or she pursues other job opportunities.
"We recognize the importance of the supply chain management sector in Eastern Ontario. As we continue to develop and align training and education with workforce demand, we will maintain our commitment to providing 'ready now' people:  that's people with exactly the right skills that an employer is looking for at the right time," said Charlie Mignault, Director of Business Development, Corporate Learning and Performance Improvement at St. Lawrence College. "As we expand this important mandate in Cornwall we will act as an engine for regional economic development and provide key organizations with skilled people that will help their companies grow and prosper in the future."
More Information
An information session is being held on Wednesday November 13th at 1pm at the Cornwall Campus of St. Lawrence College, Room M3310.
Registration for the program is continuing with a limited number of seats available. For more information on the program, contact Troy Hagen at (613) 933-6080 ext. 2137.
Have you recently been laid-off?
Recently laid-off Ontario residents may qualify for Second Career funding for this program. Second Career is an Ontario Government program that enables laid-off Ontarians to train for a new job in high demand careers. It is a cost sharing grant provided on the basis of need, so you may be asked to contribute what you can to your training or education.
About the Supply Chain Sector
The supply chain is one of the most essential sectors of the Canadian economy, involving about 767,000 workers from a range of occupations and industries.
Cornwall is home to some of Canada's largest distribution centres with Walmart, Target and Shoppers Drug Mart operating state of the art facilities. Other notable companies include the Benson Group, American Standard, Richelieu Hosiery, United Auto Parts and Cornwall Warehousing. The Cornwall Business Park is also home to some of Eastern Ontario's fastest growing trucking companies, including Minimax, Seaway Express, ITS, the Villeneuve Group and others.
About St. Lawrence College
Located along the shores of the St. Lawrence River, SLC has three campuses in Brockville, Cornwall and Kingston. St. Lawrence College boasts 6,500 full-time students from Canada, and more than 40 countries worldwide. The SLC college community includes 20,000 part-time students, 1,000 staff, and more than 70,000 alumni. It also serves more than 3,000 Employment Services clients annually. The college has recently invested in the development of Applied Research and the revitalization of its campuses.
St. Lawrence College is tops in the province when it comes to key performance indicators of a graduates success in finding employment. The following are updated KPI's for 2013.
93.6% of employers were satisfied with the quality of the educational preparation of St. Lawrence College graduates.
90.5% of SLC graduates found employment within six months of graduation.
84.1% of graduates were satisfied with the usefulness of their SLC education in achieving their goals after graduation.
You can find out more information on the St. Lawrence College website:
St. Lawrence College is also featured in the new edition of Cornwall Living magazine. You can order your complimentary copy by clicking here.