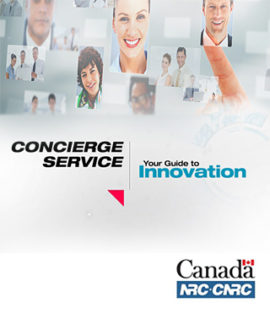 Concierge Service Provides Personalized Assistance To Cornwall Companies
February 18, 2015
Cornwall Ontario – The Government of Canada is looking to help business owners navigate the sometimes confusing landscape of available government financial incentives.
The Concierge Service provides a single access point where small and medium-sized enterprises (SMEs) can find high-quality, timely advice to help them innovate and accelerate their growth. Developed, implemented and operated by the National Research Council of Canada's Industrial Research Assistance Program (NRC–IRAP) in collaboration with over 40 federal and provincial partners, the Service improves innovation and economic opportunities for SMEs by helping them navigate the available innovation resources and support programs.
Concierge Advisors will provide one-on-one assistance and will use their wealth of industry experience and depth of knowledge to help guide clients to the most appropriate innovation programs and services available. Concierge Advisors have extensive networks and expertise, as well as knowledge about a range of industrial sectors for clients to benefit from.
"If you are a business owner seeking information about available programs and other resources, one phone call or email can save you a lot of time and effort," says Brad Pinch, Concierge Advisor for the Cornwall Area. "Let us match your needs with available support programs. "
Contacting the Concierge Service
Telephone: 1-855-53-GUIDE (1-855-534-8433) Monday to Friday from 9:00 a.m. to 4:30 p.m. local time for support
Website: http://concierge.portal.gc.ca/
About the NRC Industrial Research Assistance Program
The National Research Council-Industrial Research Assistance Program (NRC-IRAP) is Canada's premier innovation assistance program for small and medium-sized enterprises (SMEs). It is a vital component of the NRC, a cornerstone in Canada's innovation system, regarded world-wide as one of the best programs of its kind.
More Information on Available Financial Incentive Programs
The Concierge Service is one of a number of programs that are in place to help Cornwall businesses grow and prosper. Other programs include the Eastern Ontario Development Fund, the Canada Ontario Job Grant and the Eastern Ontario Development Program. You can find more information on the following link: