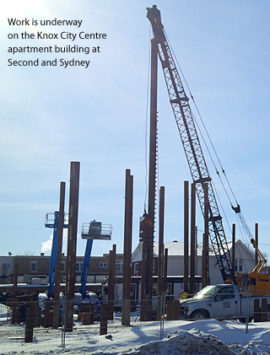 Construction Activity Continues At A Healthy Pace in January
February 12, 2014
Cornwall Ontario – Despite a very cold start to the year, Cornwall experienced a healthy dose of construction activity in January, with 37 building permits being issued with a total construction value of $12.8 million.
The January totals include building permits for 38 new family units – two semis and 36 units in the seven-storey Knox City Centre apartment building that's currently under construction at the corner of Second and Sydney Streets . The project has a construction value of nearly $8.8 million.
Other large building permits issued in January include renovations to the Ontario Power Generation administration building near the RH Saunders Generating Station ($3.25 million) and interior renovations at the Weave Shed in the Cotton Mills District ($200,000).
The 37 permits issued this January is a significant increase over the 26 building permits issued in January 2013.
"We've experienced a jump in building permit activity over the past few years, and we expect this uptick to continue in 2014," said Chris Rogers, Chief Building Official.
There are a number of projects planned for later this year that will add to the 2014 building permit totals, most notably in commercial retail and residential sectors.
The January statistics build on a successful 2013 that saw 641 building permits issued with a combined construction value of $33.4 million. This followed a record setting year in 2012 when the City issued 680 building permits with a combined construction value of $112 million. The 2012 construction value was pushed higher by several large projects including interior improvements to the Target Distribution Centre and upgrades to the Wastewater Treatment Plant.
To access the January 2014 construction activity report and those from previous months, click here.
You can download a copy of the Year in Review report in the Resources section of this website.