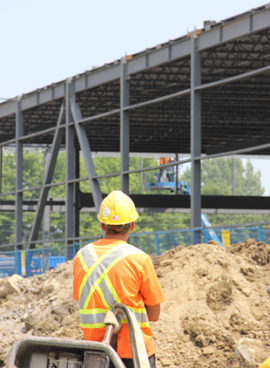 Construction Activity in Cornwall Remains Healthy
July 5, 2013
Cornwall Ontario – Development activity in Cornwall shows little sign of slowing down, according to the latest figures released by the City's building permit office.
The City of Cornwall issued 229 building permits through the first five months of 2013, a figure that's on par with the 232 building permits issued during the first five months of 2012.
May was particularly busy, with 82 building permits covering an estimated construction value of just over $3 million during the month. May's figures also compare well to last year, when 86 building permits were issued with an estimated construction value of $3.7 million.
"We continue to experience a steady volume of building permit activity and we expect that trend to continue in the months ahead," said Chief Building Official Chris Rogers. "As one spoke in the wheel of development, our staff is committed to timely permit reviews and processing."
Activity is spread out across residential, commercial and industrial sectors.
One of the biggest items in the May 2013 report is a $1.1-million building permit issued to Olymel. The  food processor is undertaking a $37 million expansion of its food processing plant in the Cornwall Business Park.
Other notable projects underway in the City include the construction of King's Landing, a seven-storey apartment building overlooking the St. Lawrence River, and a new commercial plaza by Goldmanco. Of course, work continues on the largest municipal infrastructure in Cornwall's history, the $57 million upgrade to the wastewater treatment facility and on the $79 million redevelopment of the Seaway International Bridge.
The value of building permits issued in 2012 topped $112 million, the third highest amount ever recorded at City Hall. Click here to read more about last year's development activity.
To access recent Construction Activity Reports from the City's Building and Bylaw Divisions, click here.