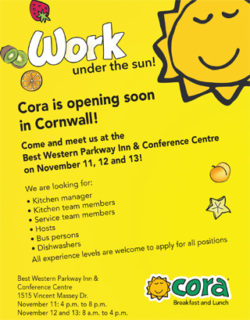 Cora Hiring for New Restaurant in Cornwall
November 3, 2016
Cornwall Ontario – Local residents will soon have a new option when looking for a fresh way to start their day.
Cora restaurant will soon open in the Seaway Village Plaza at the intersection of Brookdale Avenue and Vincent Massey Drive.
"We are excited to open a first restaurant in Cornwall," said Martin Proulx, Cora's Director of Eastern Operations. "Cornwall is after all only a short drive from the location where the very first Cora restaurant was open. We are excited to include Cornwall as part of our adventure and we look forward to becoming part of the community."
Cora is a chain of restaurants offering a unique menu of breakfast and lunch meals. The popular restaurant is known for its tasty and fresh food options that include fresh fruit on almost every plate.
Cora Cornwall will be a 126-seat restaurant with a 3,000 square feet dining area.
Now Hiring
The company is currently recruiting for a variety of positions:
Kitchen manager
Kitchen team members
Service team members
Hosts
Bus persons
Dishwashers
All in all, the company is looking to hire approximately 30 people.
Job Fair
If you are interested in working in a great environment, come and meet the Cora team on November 11 from 4 p.m. to 8 p.m., or on November 12 and 13 from 8.a.m. to 4 p.m. at the Best Western Parkway Inn & Conference Centre.
About Cora
The adventure began in May 1987, when Cora Tsouflidou bought a small diner in Montreal's Saint-Laurent district.  Her goal was to create a breakfast food business, and to do it better than anybody had ever done it before. She loved cooking for a crowd, and her unwavering drive for perfection earned her the title of "Queen of Quebec Breakfasts."
After much success, Cora and her family decided to franchise their restaurants in 1994. Franchising proved to be every bit as popular as their menu. The Cora chain now includes 130 restaurants across Canada which serve 250,000 guests each week. Cora is recognized as the leader in the breakfast industry in Canada, with additional restaurants opening their doors each year.
Categorised in: Business