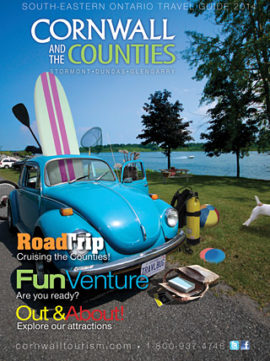 Cornwall and the Counties Tourism Unveil 2014 Travel Guide
January 24, 2014
Cornwall Ontario – After a widely successful transition to a full-sized, more informative format, Cornwall and the Counties Tourism (CCT) have once again created a dynamic publication that presents the region as a viable tourist destination. With beautiful photography, exceptional design layout, and engaging editorial, the 2014 Travel Guide is sure to excite any reader and encourage more visitors to our lovely region.
As with the 2013 edition, CCT has elected to produce the Travel Guide in both official languages, creating a more personal experience for both English and French travellers. Also like last year, CCT maintained complete creative control by keeping the entire publication in-house. Under the executive oversight of Linda Wilson, the team was able to direct their specific expertise to the project, making it a true collaborative effort.
"We're extremely proud of the 2014 edition of the Cornwall and the Counties Tourism Travel Guide," says Mrs. Wilson. "We've received outstanding feedback on the larger, more engaging version of the magazine and feel that we hit a home-run with the fun and exciting vision we've incorporated in 2014."
In 2013, CCT distributed 45,000 English Travel Guides and 2,500 French copies through local satellite kiosks, online requests, outer market drops and industry trade shows and expect to distribute the same in 2014.
"We had great success at the trade shows we attended in 2013 and were able to get the word out about our region, particularly in our target markets of Montreal and Ottawa," Wilson says. "We expect to continue to target weekend travellers, cyclists and outdoor enthusiasts in 2014."
The CCT team will be attending the following trade shows this year:
Montreal Velo Show (February 14-16)
The Outdoor + Adventure Travel Show (March 15-16)
The Ottawa Travel & Vacation Show (April 5-6)
The 2014 Travel Guide will be available across Cornwall and SDG at designated kiosks, or can be picked up at the CCT Visitor Centre at 11 Water St. West. Digital copies will be available online atcornwalltourism.com or you can fill out the request info form to have a hard copy delivered to your home.