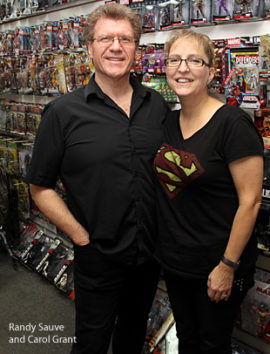 Cornwall & Area Pop Expo Coming To Cornwall In 2015
October 3, 2014
Cornwall Ontario – What started as an idea almost three years ago is finally coming to life.
Randy Sauve and Carol Grant have announced plans to hold the very first major comics exposition in Cornwall.  Cornwall & Area Pop Expo (CAPE) will take place on Saturday, April 18th, 2015 at the Benson Centre.
"We're very excited to bring this event to Cornwall," says Randy Sauve.  "We have been to dozens of similar events in Ottawa, Toronto, Niagara Falls, Boston and Montreal and we think there is more than enough support in Eastern Ontario to make our event a success."
CAPE promises to have similar draws as ComicCon, a convention and trade show that showcases the genres of science fiction and fantasy.  Celebrity guests such as actors and artists are big draws, along with exhibitors showcasing anything related to pop culture, comic books, video games, anime and more.
Another popular feature of these events is Cosplay (short for costume play) where attendees wear costumes and fashion accessories to represent a favourite fictional character.
"Half the fun of these events is dressing up – or at least interacting with people who have dressed up," says Randy Sauve. "Fans spend a lot of time and effort on their costumes, and some of the results are just amazing."
Although Mr. Sauve is not confirming any celebrity guests at this early stage, it is likely that one of the first invitations will go to Marie-Claude Bourbonnais, one of the most recognizable and popular cosplayers in the world. Ms. Bourbonnais resides in Quebec and has visited Mr. Sauve's store as part of the webseries Heroes of the North.
"Superhero culture has become very popular around the world, driving hit movies and TV shows such as the Avengers and Doctor Who," says Mr. Sauve. "It is nice to take a break from real life every now and again and imagine what a world would be like with superheroes, aliens and magic."
Mr. Sauve owns and operates Fantasy Realm, the iconic comics store on Pitt Street in Downtown Cornwall. Ms. Grant runs Carol Grant Productions, a company offering photography services, photo booth rental and disc jockey services in the Cornwall region.
Tickets go on sale to CAPE in January. More information can be found online: