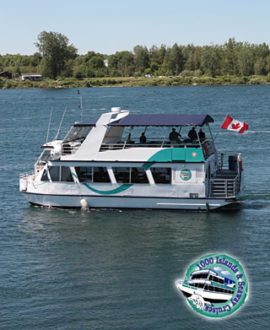 Cornwall Boat Cruises Along the St. Lawrence River
June 4, 2013
Cornwall Ontario – Celebrate Cornwall's river heritage on a sightseeing cruise on the St. Lawrence River.
From June 4 to June 9, 1000 Islands & Seaway Cruises will be sailing out of Marina 200 in Downtown Cornwall, offering sightseeing cruises along the St. Lawrence River. Choices include 90 minute cruises as well as special two-hour brunch and dinner cruises.
"We see this year's Seaway Cruises as a stepping stone towards establishing a regular cruise service along the St. Lawrence," says Captain Andrew Neeteson. "We hope local residents, businesses and visitors will seize the opportunity to have some fun and experience a little of their community's river heritage."
Cruises take place aboard the Sea Fox II, a modern 46 ft catamaran that can accommodate 120 passengers on two decks.
The Cornwall cruise departs from Marina 200 behind the Civic Complex, and winds its way east along the old Seaway Chanel by Cornwall's waterfront and the local group of islands. The vessel briefly enters the shipping channel near the treacherous Crab Island Shoal. Downstream, the vessel drifts along the north shore of St. Regis Island, and departs the Seaway at Glen Walter, site of the Precious Blood Cemetery. The view of the Cornwall and South Glengarry shoreline is beautiful, as is the view of Akwesasne and the Adirondack mountains to the South.
Local wildlife who make their home along the river, such as herons and cormorants, add to the experience, as does the many local residents who boat and fish on the river.
Captain Andy is offering four great cruise opportunities that will suit any needs.
Seaway Sightseeing Cruise (90 mins)– June 4 to June 7, enjoy early afternoon cruises from 2-3:30pm ; June 8-9, enjoy cruises from 1pm, or 3pm.
Seaway Smorgasbord Lunch Cruise (includes sightseeing and lunch buffet)—June 5, 7, indulge in the finest of snacks and a filling lunch buffet as you sail along the historic Seaway, 12-1:30pm.
Seaway Soiree Dinner Cruise (evening cruise including 3 course buffet)—June 7,8, enjoy a romantic evening on the calm St. Lawrence River. 6:30-8:30
Brunch Cruise – Wake up to a delicious brunch buffet on Cornwall's beautiful river, June 9—10:30-12:30
In addition to the available options, there are other ways to enjoy the scenic St. Lawrence River, no matter your party size.
"Private charters are also available as well as discounted prices for groups on all public cruises," says Captain Andy. "The cruises offer a unique opportunity to host corporate and staff functions, family and fundraising events afloat."
Reservations are recommended for sightseeing cruises and are required for all dining cruises and can be booked on-line at www.1000islandscruises.com or by calling 613-345-7333. Advance tickets are also available at the Cornwall & the Counties Tourism Office in Cornwall.
This is the third year that Captain Neeteson has sailed from Cornwall. Cruises will be offered again in September 2013, from the 18th to the 22nd.