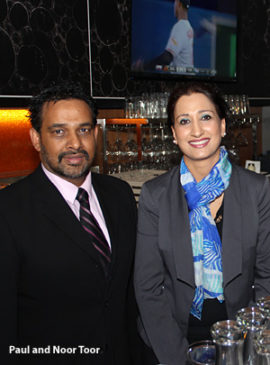 Cornwall Boston Pizza First Of Its Kind In Ontario
April 28, 2014
Cornwall Ontario – If you are a fan of Boston Pizza, you will want to grab a glimpse of the future as the company unveils its new look for the first time in Ontario.
The newest Boston Pizza restaurant is also the first Ontario location to feature the brand's new restaurant design concept. The restuarant features modern design elements that are both warm and welcoming. The restaurant officially opens its doors on April 29, 2014 at 1234 Brookdale Avenue.
"We are very excited to bring the Boston Pizza brand to the Cornwall community," explains franchisee Paul Toor. "The Boston Pizza brand is a great fit for Cornwall and our employees are determined to provide our guests with the best dining and sports bar experience in the area."
The family-friendly dining room has seating for 112 while the sports bar features state-of-the-art audio/visual components, HD TVs and seating for 125 sports fans. The restaurant also has a patio with space for 46 guests.  It's the perfect destination for family and friends to spend time together while enjoying Boston Pizza's 100 menu items.
"With our diverse menu, incredible atmosphere and our commitment to supporting community groups like the United Way as well as local sports teams, Boston Pizza Cornwall is the perfect destination for great food and great times," says Toor.
Mr. Toor and his wife Noor celebrated the opening on Saturday evening, presenting the Boys and Girls Club with a cheque for $3750. The amount was donated by patrons and staff during a number of dress rehearsals last week.  It was a record amount for a Boston Pizza opening.
Over 70 people currently are on staff at the restaurant, with more to be hired soon. Final staffing numbers will likely settle at around 90 people.
About Boston Pizza
Boston Pizza International Inc. is Canada's No. 1 casual dining brand with more than 350 restaurants in Canada. Boston Pizza is celebrating 50 great years since opening its first location in Edmonton, Alberta in 1964. Annually, Boston Pizza serves more than 40 million guests. The company has been recognized as a Platinum Member of Canada's 50 Best Managed Companies. Boston Pizza believes that strong role models inspire kids to be great, and in 2014, the Boston Pizza Foundation created Future Prospects to help support organizations that mentor kids to reach their full potential.  For more information visit http://www.bostonpizza.com.