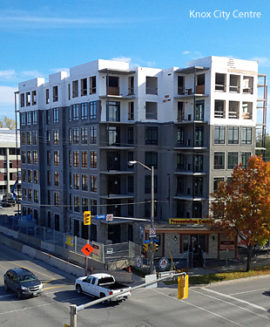 Cornwall Building Activity Trending Upwards
October 31, 2014
Cornwall Ontario – Judging from the latest building permit figures, it's shaping up to be another strong year for construction activity in the City of Cornwall.
The City of Cornwall has issued 560 building permits with a total construction value of roughly $48 million through the first nine months of 2014. By comparison, during the first nine months of 2013, the City had issued 492 building permits with a total construction value of $25.6 million.
According to the latest Building Permit Report, 109 building permits were issued for new family units up to the end of September. The healthy level of activity in the residential sector was joined by significant investments in the commercial, industrial and institutional sectors.
"We continue to see activity across all sectors, and it bodes well for the future," said Chris Rogers, Chief Building Official. "There are several other commercial and residential projects on the horizon and we anticipate the construction activity to continue at a steady pace into 2015."
One of the large projects currently under construction is the $8.8-million Knox City Centre residential development at the corner of Second and Sydney Streets in Downtown Cornwall.
On the commercial/industrial side, Bourgon Construction has moved into a striking new headquarters on Second Street East, while Evotech has established a new manufacturing operation on Marleau Avenue. Both of these developments have occurred in the Cornwall Business Park.
Residents will have also noticed new development at the Goldmanco shopping centre at Ninth and McConnell Avenue as well as the Villarboit plaza at Brookdale Avenue and Tollgate Road.
The institutional sector has also experienced a significant amount of activity with a number of schools – including Central Public School and St. Peter's Catholic School – undergoing improvements.
You can view building permit reports in greater detail on the City of Cornwall website at www.Cornwall.ca