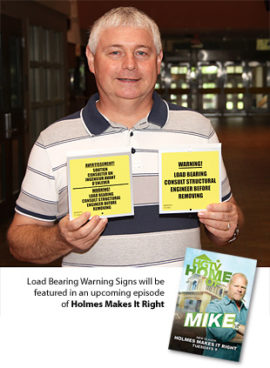 Cornwall Building Product Gets Thumbs Up From Mike Holmes
August 26, 2014
Cornwall Ontario – Denis St. Denis knew he had a good idea when he developed a product to help contractors and home owners identify load bearing walls. Apparently Canada's most famous contractor agrees.
Mike Holmes will be featuring Mr. St. Denis' load bearing signs in the next episode of Holmes Makes It Right, which airs on Tuesday Sept 2nd at 9:00 pm on the HGTV Channel.
"It is a 2 part episode titled Five Alarm Chili," says Mr. St. Denis.  "We are not yet sure if it will be in episode one or two, but it has definitely been used during this particular renovation.  In fact, they have already ordered an additional quantity of my signs for future use."
Mr. St. Denis launched his business, Load Bearing Warning Signs, in September 2012.  Roy Perkins, owner of Rona Perkins Home Centre was so impressed with the sign that he immediately made them available in his Marleau Avenue store.
Mr. St. Denis was pleased to see his product available to contractors and consumers, but wanted more. He firmly believes that the product is a must for new builds and for renovations. He has worked tirelessly to gain industry recognition for the product, and would like to see it used country wide.
"Removing a wall can cause significant sagging and damage to a building," said Mr. St. Denis.  "Our signs will make it simple to determine if the wall is load bearing or not, saving time and possibly headaches down the road.  They are affordable – and are easy to install with a screwdriver or drill."
Mr. St. Denis worked to attract the attention of Jon Eakes, an HGTV TV and radio host in home renovation shows.  It was Mr. Eakes who brought the product to the attention of Mike Holmes.
"If every house built 25 years ago had these signs, we wouldn't have the house damage and personal injury we have today when people unknowingly remove part of a load bearing wall," says Mr. Eakes.
Support and use of the signs continues to grow, and one of the latest supporters is veteran contractor Damon Bennett. A trusted expert and household name after nearly 10 years of working as Mike Holmes' right hand man, Mr. Bennett is working on a new project entitled HOSS House for HOSS magazine and has indicated that he will also be using these signs.
About Load Bearing Warning Signs
Load bearing warning signs is a patented product of D & L Quality Homes promoting safety in new residential construction and residential renovations. It is used to warn people that the wall they are demolishing is a load bearing wall and a structural engineer should be consulted before removing.
The sign has a bright face with easy to read lettering and is made from anodized aluminum for a rust free life expectancy. It is easily mounted in seconds with screws or nails. Signs are available in both English and French.
Load Bearing Warning Signs are currently available at the Rona Home Centre located on Marleau Avenue in Cornwall and can be purchased online at:
More Cornwall Entrepreneur Profiles
The Cornwall Business Enterprise Centre helps small business owners and entrepreneurs succeed in Cornwall, Stormont, Dundas, Glengarry & Akwesasne by offering information, tools and support during the start-up and growth stages of business operation. For more success stories from local entrepreneurs, please visit: