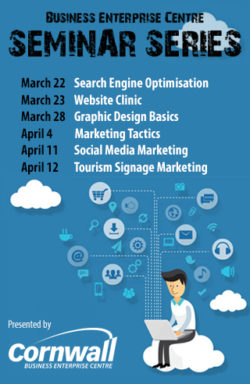 Cornwall Business Enterprise Centre Launches Seminar Series
March 20, 2018
Cornwall Ontario – The Cornwall Business Enterprise Centre is hosting a series of seminars that will focus on marketing topics for small businesses owners. The seminars run through the month of March into early April, and will take place at the Cornwall Civic Complex.
"Marketing is easily one of the most difficult, but most important, aspects of owning a business," says Candy Pollard, Business Consultant. "Each seminar addresses a critical element of successful marketing efforts. The goal is to help business owners maximize the effectiveness of their budget."
The following is a list of the six seminars.
March 22 – Search Engine Optimisation
March 23 – Website Clinic (By Appointment)
March 28 – Graphic Design Basics
April 4 –  Marketing Tactics
April 11 – Social Media Marketing
April 12 –  Tourism Signage Marketing
"Each seminar offers unique value, however we are encouraging business owners to attend as many as possible," says Ms. Pollard.
There is no cost to the seminars, however attendees are asked to register in advance. More details on each seminar appears below:
March 22 – Search Engine Optimisation Basics – 7:30am
Search Engine Optimisation (SEO) is a hot topic for any business owner looking to drive more traffic to their website. The seminar will discuss the various elements that are taken into account by search engines such as Google and Bing and talk about do's and don'ts that can help or hinder your chances of appearing on the first page of search results. The seminar is set up for beginners and will leave attendees with an understanding of terminology and tactics to put to use on a website.
March 23 – Website Clinic (By Appointment)
The Website clinic will provide a one-on-one approach to triage their website starting with an analysis of analytics and ending with a treatment plan consisting of steps to optimize the site for speed, design and content. This clinic is by appointment only.
March 28- Graphic Design Basics – 7:30am
The use of graphics can often make or break any marketing effort, from print to digital marketing. This seminar will address the basics of good design from effective logos to other elements such as colour, image choice and photo optimization that are used in creating basic brand materials. Mark Des Cotes of Marksman Design will be presenting.
April 4 – Marketing Tactics – 7:30am
This seminar will explore the various marketing methods open to business, from advertising to direct marketing. Attendees will be asked to undertake a critical review of their marketing plan and determine is current marketing efforts are effective at reaching their clients.
April 11 – Social Media Marketing – 7:30am
Find out how social media sites such as Facebook, Twitter, Instagram and LinkedIn are changing the way customers connect to goods and services. Using each platform effectively requires knowing how each works, and why it is important to integrate social media into your overall marketing strategy.
April 12 –  Tourism Signage Marketing – 7:30am
Promote your business to the tens of thousands of vehicles that use Highways 401, 417 and 138  via the Tourism-Oriented Directional Signage (TODS) program. Also learn how you can use the SDG Toursm signage program to reach travellers on the local county and township roads.
Registration Info
To register for any of the seminars please can contact the Cornwall Business Enterprise Centre at 613-930-2787 ext 2276 or by email at joreilly@cornwall.ca.
About the Cornwall Business Enterprise Centre
The Cornwall Business Enterprise Centre helps small business owners and entrepreneurs succeed in Cornwall, Stormont, Dundas, Glengarry & Akwesasne by offering information, tools and support during the start-up and growth stages of business operation. The Cornwall Business Enterprise Centre is operated by Cornwall Economic Development, and funded in part by the Government of Ontario.
The Cornwall Business Enterprise Centre is located at 100 Water Street East (Cornwall Civic Complex) and can be contacted by phone at 613-933-0074 or online at:
Categorised in: Business