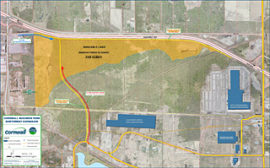 Cornwall Business Park Expands by 260 Acres
July 29, 2013
Cornwall Ontario – The City of Cornwall has made another 260 acres of land available for development in the Cornwall Business Park.
The land is immediately south of Highway 401 and runs east from McConnell Avenue to the SCM Distribution Centre. The City will build new roads and extend services to the area as need dictates.
The land was recently acquired from two separate property owners following Council's approval to purchase the land. The City also held a public information session regarding the expansion of the Business Park in October 2012.
"It is important that the City maintain an adequate inventory of employment lands," said Mayor Bob Kilger.  "This strategy has proven successful in the past as we have attracted companies that have built new facilities and created hundreds of new jobs."
Development sites will benefit from a high profile location, as 20,000+ vehicles travel along that stretch of Highway 401 every day.
"The property is zoned for a variety of manufacturing and supply chain activities, and we expect that the lands will generate considerable interest," said Mark Boileau, Manager of Cornwall Economic Development. "These lands offer great exposure along Highway 401."
The land is for sale at $30,000 per acre, making it some of the most affordable land in Ontario.
"When you add in the fact that the City does not have development charges, the cost to develop a facility is much lower in Cornwall than any other location in Toronto or Ottawa," added Mr. Boileau.
Available services in the Business Park include municipal water, sanitary sewers, electrical power, natural gas, and access to high speed telecommunication services. Access to Highway 401 is available via Interchange 796 (Boundary Road) and Interchange 792 (McConnell Avenue).
The Business Park is approximately 1500 acres in size and is home to Cornwall's largest private sector employers. In the past few years, the City of Cornwall has sold over 400 acres to companies such as Target and Shoppers Drug Mart.
A detailed map of the Cornwall Business Park is available in PDF format in the Resources section of this website.