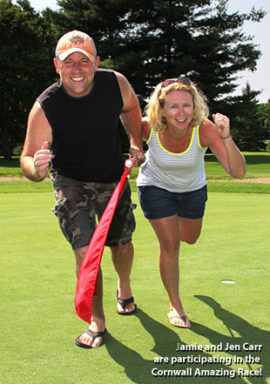 Cornwall Chamber Launches Amazing Race This September
July 24, 2014
Cornwall Ontario – The Cornwall Chamber of Commerce will be kicking off a busy fall season with its own version of the Amazing Race. The event will take place on Saturday, September 6.
"All of us at the Chamber are excited about this fun event, it is a great way to promote team building, an active lifestyle, and the exploration of Cornwall", declares Megan Brownell, Events Coordinator. "Not only will it be a frantic and hilarious competition between the teams, there is a terrific prize for the winners."
The idea of a local race was created by Brownell who describes how the event will work.
"We have a course set up in Cornwall. The competition will consist of teams of two and each team will walk, bike and run over the length of the course as they compete in a series of activities that will test both their physical and mental strengths."
There is the reward at the end of the Race.
"Winners of the Chamber's first ever Amazing Race will not only win a cash prize of $1,000, they will also win two round trip tickets to Boston, compliments of Cape Air, our regional carrier that flies from Massena, New York", continued Brownell.
Summerheights Golf Links has signed on as the key sponsor of the event, joining a number of area businesses that are also sponsors.
Jamie Carr and his wife Jen were the first couple to register.
"This is going to be such fun," said Jamie.
As of today, 5 teams have already registered to partipate. Organizers are expecting between 20-25 teams.
How You Can Participate
Teams can register by visiting CornwallChamber.com or by telephoning 613-933-4004, ext. 222. Registration is now on and teams that register before August 15 will get an 'early-bird' fee of $100. From August 16 on, the registration fee will be $120.